Did You Know: A Few of the Top 3 Analog and Digital Gateways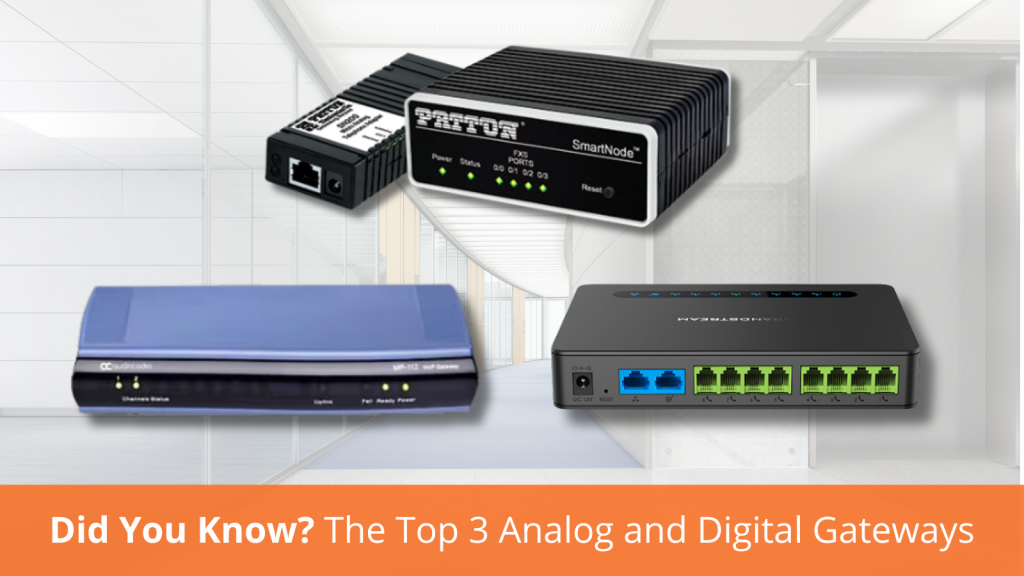 Firstly, let's simplify the difference between an analog gateway and a digital gateway. At their core, the purpose of analog and digital gateways is to connect different communication networks. However, the key distinction lies in the type of signals they handle.
Analog gateways handle analog signals, often used in traditional telephony systems such as analog phones, fax machines, and modems, which all generate analog signals.
Digital gateways handle digital signals. Digital signals are in technologies such as VoIP and digital phone systems. Devices like computers, smartphones, and IP phones generate digital signals.
You will know which gateway you need based on the specific requirements of the communication infrastructure and the types of devices that need to be integrated into the network.
Here at VoIP Supply, we have a plethora of gateways to choose from. Here are a few of the top three analog and digital gateways that you can find right now at www.voipsupply.com!
Top 3 Analog Gateways:
This reliable analog gateway is equipped with advanced features to ensure smooth communication. Its user-friendly interface and efficient signal processing, with built-in diagnostic tools, make it a top choice.
2. Grandstream HT818 8-port VoIP Gateway
This gateway is next level with its 8-port design, making it perfect for businesses with multiple analog devices. This gateway boasts high-quality voice and audio, ensuring crystal-clear communication. The HT818's compact size and easy setup is widely appreciated.
3. AudioCodes MediaPack 112 Analog VoIP Gateway, 2 FXS, SIP Package
Offering two FXS ports, expect easy integration of analog devices into IP-based communication systems. AudioCodes MediaPack Gateways are a premium choice for commercial VoIP deployment and are often deployed in rural areas.
Top 3 Digital Gateways:
We've got a digital powerhouse of a gateway here, featuring high-density digital voice and data connectivity. Its versatility and innovation make this perfect for small and medium-sized enterprises looking for a cost-effective solution.
2. Grandstream GXW4501 Digital VoIP Gateway
This is a powerful digital VoIP gateway, offering a bridge between traditional telephony systems and modern IP networks. With its high-density ports and advanced features, the GXW4501 is designed to meet the needs of medium and large-sized businesses.
3. AudioCodes Mediant 500 E-SBC
As a leading digital gateway, the AudioCodes Mediant 500 E-SBC excels in providing session border control for secure and efficient communication. Offering smooth data and voice transmission, this gateway is a trusted solution for businesses, connecting up to 250 sessions.
Feel free to contact the VoIP Supply Experts with any questions! Call us at 1-800-398-8647, or visit us at www.voipsupply.com and send us a chat. Leave a comment below if you found this blog post helpful!