Did you know that Snom's D7XX Series is now Zoom-Certified?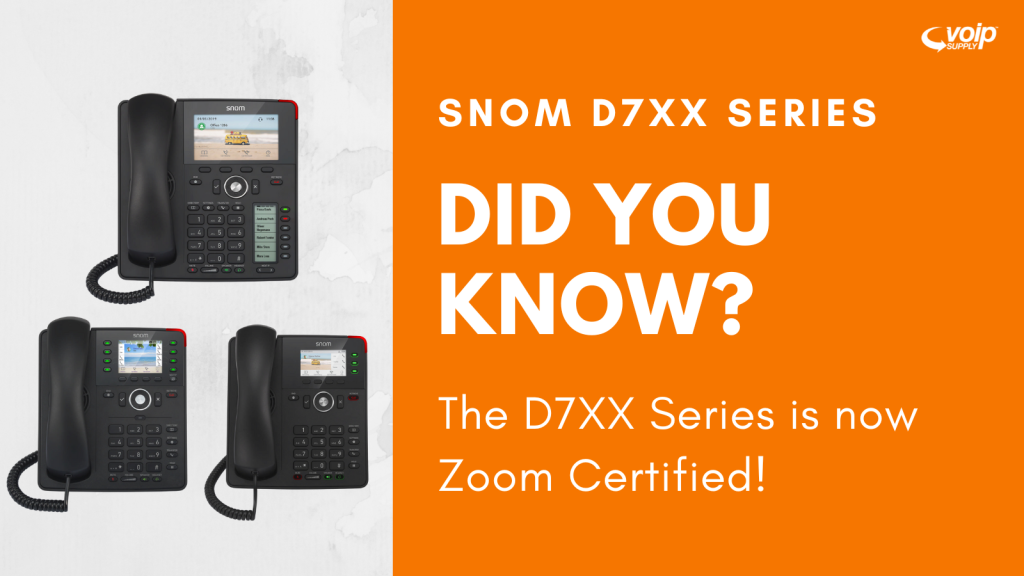 Snom's D7XX Series of desk phones are now certified for use with Zoom services.
Snom has always been known as a pioneer and a leading brand of professional and enterprise VoIP phones. They provide a diverse collection of telecommunication products that elevate the business user experience through state-of-the-art technology and design. And the Snom D7XX Series continues that tradition.
Snom's D7XX Series of desk phones are professional, high-performance devices that provide the best in Wideband HD audio, ensuring crystal clear sound quality. They are Bluetooth-compatible to meet the connectivity requirements of today's offices. The Snom's D7XX series of desk phones are adaptable for those working remotely, in-office, or in a hybrid model.
The Zoom Hardware Certification Program is for manufacturers who produce devices designed to integrate with Zoom. This program allows manufacturers to certify that select hardware is compatible with Zoom software. Zoom-Certified hardware undergoes comprehensive testing and review to ensure a seamless communication experience.
Manufacturers who are approved for Zoom Certification get listed on the Zoom Certified Hardware page and receive a Zoom Certified badge, which lets customers know that the manufacturer's hardware has undergone comprehensive testing.
With the Snom D7XX Series being Zoom-Certified, customers know they can expect a high-quality, reliable communication experience.
Snom's D7XX Series consists of the following products:
Snom D785
Snom D785N
Snom D735
Snom D717
Snom D713
Visit our website to see more about Snom's D7XX Series desk phones.
If you have questions about any of these devices, about Zoom Certification, or want to learn more, contact one of our VoIP experts at 1-800-398-8647!
We are excited to hear about this new Zoom Certification for the Snom D7XX Series! Are you? Please leave your comments below. We are looking forward to hearing from you.