Grandstream GAC2500 Conference Phone Takes the UC Spotlight
Now Available From Grandstream Networks
Grandstream Networks, since 2002, has been successfully deploying VoIP solutions to customers across the globe. Ranging from Corded IP Phones to PBX Appliances, there has been almost no VoIP stone that has been unturned by Grandstream in its endeavor to provide the best and most cost effective VoIP solution on the market – that is, until today.
This morning Grandstream released the GAC2500 Conference Phone, the first conference unit ever to be produced by the company. Utilizing the power of Android 4.4 , as well as the many other high-end functions associated with today's modern VoIP solutions,  the GAC2500 easily delivers a full and robust conference solution for any size business.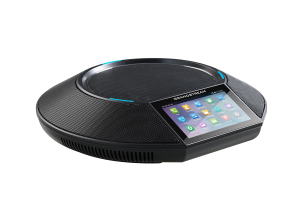 What It's All About
This circular-shaped conference phone features both a modern design, and also many high performance functionalities such as:
Auto-sensing Gigabit Ethernet with PoE
Integrated Bluetooth 4.0
Android 4.4 – allowing for full access to Google Play Store and the potential for custom app creation
Supports 6 lines with up to 6 SIP accounts
Features a 4.3″ color touch screen for each navigation and utilization
Complimentary solution for the GVC3200 Video Conference System, allowing for full utilization of apps such as Skype for Business and Google Hangouts
This product also delivers HD quality audio via 3 cardioid microphone that allow for a pickup range of up to 12 feet. The GAC2500 not only delivers high-quality audio, but also features auto provisioning to ensure an easy deployment, as well as a firmware upgrades via TFTP, HTTP, and HTTPS or via local HTTP upload. The GAC2500 also contains advanced security protection to ensure privacy, as well as broad interoperability with many 3rd party SIP devices.
The GAC2500, at every angle, delivers a very powerful conference solution. Included with the unit is the GAC2500 phone, a universal power supply, a network cable, a USB cable, a RJ48 cascade cable (for daisy-chaining), as well as a Quick Installation Guide.
Where To Find It
VoIP Supply is thrilled to offer this product as the latest and greatest solution from Grandstream Networks,  and would love to hear what you think about this product as well! Please leave a comment or question for us in the below comment area, or contact us directly at 1-800-398-8647 and we'd be happy to tell you more about this solution from Grandstream.
VoIP Supply also thanks Ying-Hui Chen for her assistance with posting this article.