Guest Post: When To Choose DECT Over Wi-Fi?
Note:  This is a guest post by James Kander, North American Sales Manager for Polycom KIRK, and the 1st installment in a three part series.
Polycom has two great wireless VoIP solutions to increase mobility in your workplace; the Polyom KIRK (DECT) line and the Polycom SpectraLink (Wi-Fi) option.  Both scenarios employ wirless handsets that will:
Eliminate paging delays and improve operations.
Enable faster responses to problems and emergencies.
Improve employee mobility, responsiveness and productivity.
What's the best way for users to distinguish the true differences between DECT and Wi-Fi?  With that question in mind we decided to ask the authority themselves, Polycom.  Jim Kander, the North American Sales Manager for the Polycom KIRK line, gladly agreed to clear up the confusion.  Below is his response.
Why choose DECT over Wi-Fi?
VoIP Supply:  Jim, for our readers, can you paint a scenario of when DECT would be a great solution? Specifically, when would you choose DECT over WiFI?
James Kander, Polycom:  DECT is ideal for customers looking for a cost effective wireless solution that is interference free. The DECT standard operates on a dedicated 1.9GHz frequency band with built-in dynamic channel selection and allocation to ensure that the best channel is used during a call.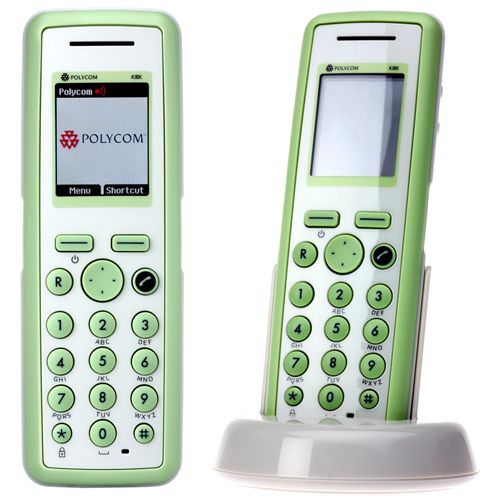 It also ensures handover between base stations are handled quickly and efficiently. In addition, KIRK handsets and infrastructure elements are backed by a strong engineering DECT expertise allowing for the highest overall voice quality in the product. DECT is well positioned for those customers wanting to have a dedicated voice network. Our DECT base stations can be flexibly deployed via the LAN network or directly wired to the server.
The DECT standard also allows for lower power consumption thereby allowing handsets to have standby battery life of up to 200 hours and 24 hours of talk time. The KIRK DECT solution has specialized handsets for various verticals such as healthcare, manufacturing, office and retail.
The solution enables third party application integration developers to deliver even greater productivity for mobile workers through open APIs. Finally, the DECT solution integrates directly with Microsoft Lync.
Making the Solution Work
We hope this gets you started on deciding what's best for your application, DECT or Wi-Fi.  This is only the first installment of a three part Q & A series with Kander.  Coming up next are the prerequisites needed to make the solution work and best practices for installation.