[Infogrphic] How to Choose a Bluetooth Headset That Works for You
Browsing page over a page, website over a website, you are still not sure which wireless headset will be your perfect match? Take a break and read the 7 keys in this blog to help you find your ideal Bluetooth headset efficiently!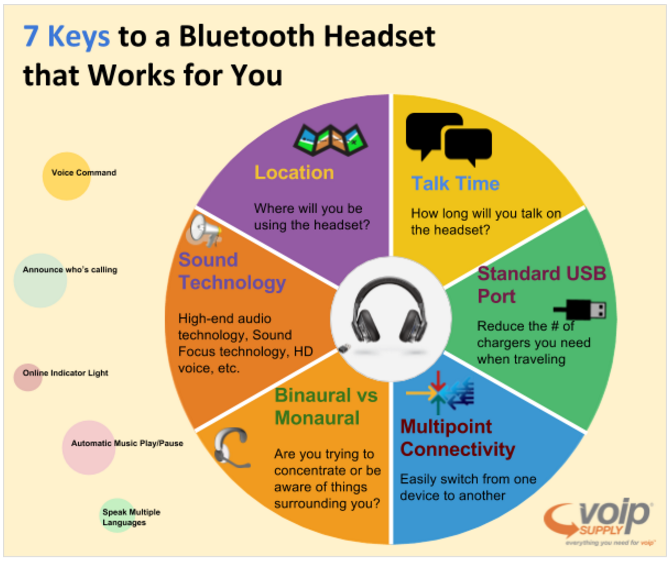 What to look for when choosing a Bluetooth headset?
You may be looking at a ton of headset features and don't know where to start. Take one step back to think about the seven keys here and list o ut your requirements before you start shopping, you will be able to easily find the best headset that simply works for you! Let's get to it.
Key #1 Location
Think about the location you will be using your headset in. Are you using it for jogging in a park, working in an office, or talking on the go? Chances are, you have a couple places where you take calls or listen to music most often. If you plan to use it outdoor, a Bluetooth headset with a strong microphone and noise cancellation technology is a good choice to go for.
Key #2 Talk Time
Take talk time into consideration. If you are a salesperson, you may want to have over 8-10 hours of talk time. Be aware that there's a tradeoff between the battery life and the size of your Bluetooth headset. So enjoying a lighter headset means you might have to charge it more often.
Key #3 Standard USB Port
Make sure your headset has a standard USB port that lets you charge from a powered USB port on a desktop or laptop easily. This will save you trouble from carrying too many chargers when traveling and can easily borrow from someone when you forget to bring yours.
Key #4 Multipoint Connectivity
If you are a multi-tasker who needs to switch your headset from one device to another, make sure your headset support multipoint connectivity. This feature will save you a lot of time without needing to manually switch back and forth.
Key #5 Binaural vs Monaural
Typically, binaural options are suitable for people who need to concentrate on a call while monaural headsets are good for people who need to be aware of what's happening around him/her while on a call with someone.
Key #6 Sound Technology
Pay attention to the sound technology your headset has to offer. For example, if you plan to talk in a windy outdoor area, WindSage technology and Sound Focus technology will come in handy. Most of the headsets nowadays have HD voice to enhance clear sound.
Key #7 Other Special Features
After running through the basics above, you will want to check out some special features that can make your day just a little bit more efficient. Everyone had different needs when it comes to using a headset, but here you can find some of the features I find useful:
Check out our blog for some quick suggestions: Best Bluetooth Headsets to Pair with Your Mobile VoIP [Comparison Chart]
What Bluetooth headset are you using? How did you choose it? Share in the comment box!