How to Pair a Bluetooth Headset to the Snom M85 DECT Phone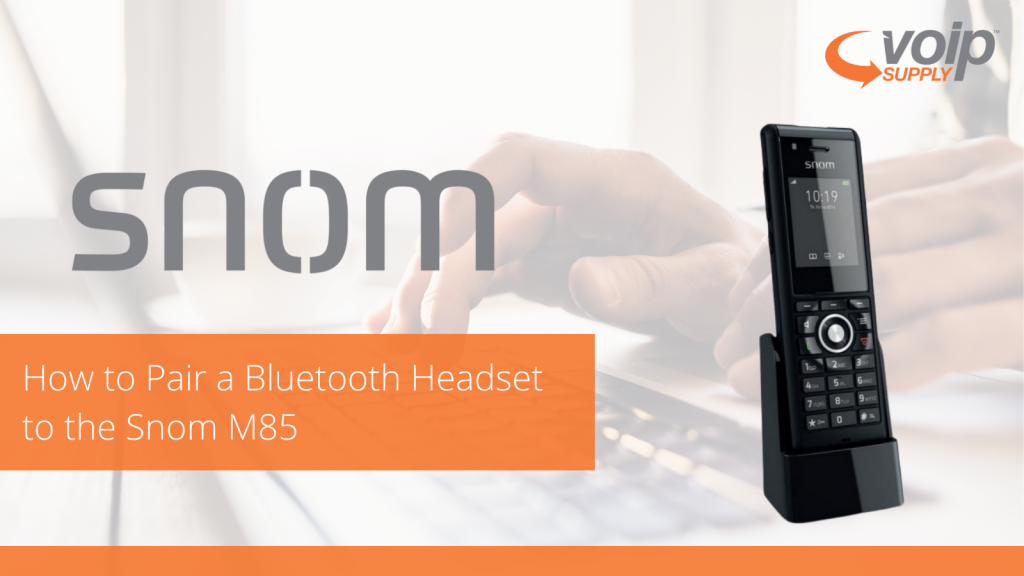 If you didn't know, Snom's M85 ruggedized DECT phone can be used with a Bluetooth headset! We absolutely love the fact that this DECT phone has this feature. It gives the user the ability to move around and be hands-free at the same time, which is important in certain situations such as manufacturing or retail stores. You are also able to pair multiple headsets to one M85, so we will also walk you through how to manage those headsets.
For this post we are going to walk you through enabling the feature and then how to actually pair the headset. By default the Bluetooth setting is disabled, so we will first need to enable this setting in order to begin the pairing process.
Enable Bluetooth Setting
Open the Settings menu and press to go to Bluetooth at the end of the menu.
Select Bluetooth.
Select Enable/Disable. You will be asked whether to enable or disable Bluetooth, depending on its current status.
Press Yes or No to change or keep the current status and to return to the Bluetooth screen
Ok, now that we have that done, let's work pairing your headset to the Snom M85!
Make sure that Bluetooth is enabled.
Select Search for devices.
Put the headset into pairing mode. For more information, please refer to the headset's user guide.
If the phone has detected more than one headset, select yours from the list and press Pair. When pairing has been successful, you will see the message "Bluetooth connection established".
Managed Paired Headsets
Open the Settings menu and press to go to Bluetooth at the end of the menu.
Select Paired Devices.
Select the device and press the function key underneath Disconn. or Connect to change the device's current status.
Press More to open the submenu where you can change the name of the device, delete the selected device, delete all devices, or view the Info screen with the product's name and Bluetooth MAC.
There you have it! Now you are all ready to go! If you have additional questions please leave a comment below or reach out to us at 800-398-8647.