Is Skype Free?
Is Skype free?
It sure is.  But, is it worth it?
Businesses Can't Rely on Skype, Google Hangouts
If you're a remote employee, doing some freelance work, or you're just calling your mom then Skype or Google Hangouts will work great. These are wonderful free video conferencing services that are easily accessible to everyone.
Well, just about everyone. Some countries are banning Skype.
That's an example of where the problems begin, for businesses.
Quality and Reliability
Quality and reliability aren't really concerns for one-on-one video chats. But as the number of people, sites, and the importance of the video call increases, the horsepower and available options (we're talking about cars, right?) of your video conferencing system needs to be increased as well.
For example, medical researchers collaborating from around the globe will want to share large amounts of data in real-time, the R&D team unveiling a prototype in another state will need HD cameras with pan-tilt-zoom options, and the executives making a business deal don't want to have to hang up and call back for a better connection.
Consider too the security risks of video conferencing on public networks. You'll have stronger encryption with a private, business-grade system.
For more real-world applications read Angus Kidman's article on Lifehacker, Why Business Video Conferencing Needs More Than Skype or FaceTime.
I Still Like Free
If you're still not convinced that your company needs a fancy (read: "expensive") video conferencing system, that's great. But there's no reason you can't make your desktop video conferencing experience a lot better with a few simple add-ons like a USB speakerphone, an HD camera, or even a Skype headset.
Check these out:
Plug-and-play, no drivers to download, and hands-free operation describe the crystal clear ClearOne CHAT 60 Skype Certified USB Conference Phone.
We like the Logitech C920 for the simple way it clips on to monitors and laptops and for its fantastic full HD 1080p video. It comes with the latest version of Skype for Windows, automatic zoom and digital PTZ, low-light correction, and records video and takes pictures.
The Jabra SPEAK 410 is a portable USB conference phone designed for office pros. With excellent sound (we use these all the time in the office or working from home), convenient carrying case, and wraparound cord it's easy to take it wherever you go.
One of our favorites (not because it looks like E.T.), the Logitech BCC950  helps small groups meet anywhere when the conference room is booked.  With a noise cancelling 8-foot range microphone and the motorized pan, tilt, zoom camera, your group can hold meetings in the kitchen while scavenging for snacks.
I Still Need More Information
There are a lot of choices out there. This video conferencing buyers guide can help you learn more about the technology and your options: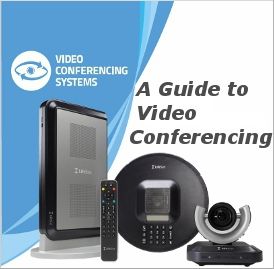 And if you'd like to talk to somebody, contact one of these video conferencing experts.
Via Lifehacker