Like New IP Phones That Do Not Lack Quality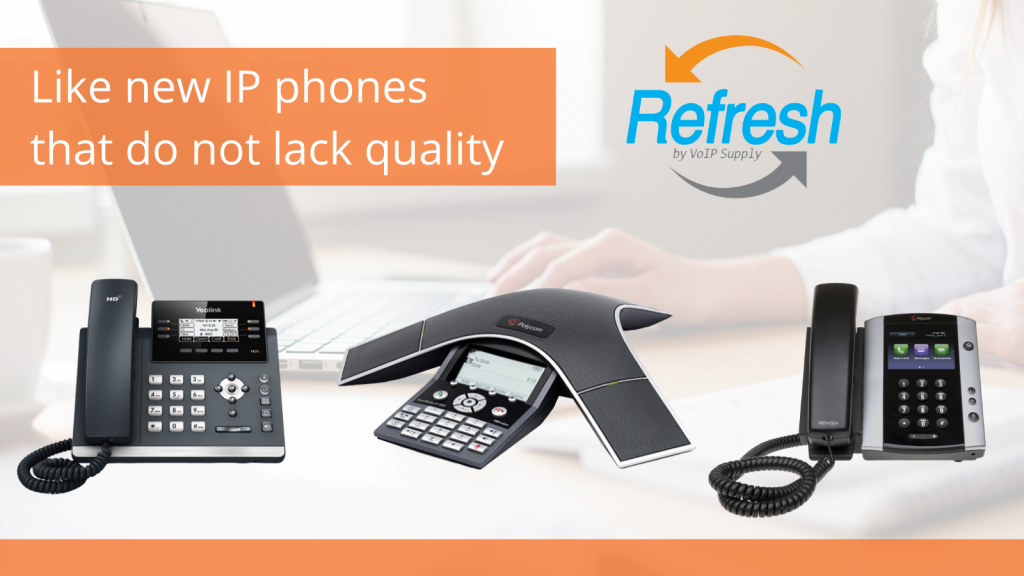 At VoIP Supply we believe that Refurbished or used does not have to equal low quality. That is why we have put in great effort in our Refresh line of used IP phones and VoIP Equipment. We know that our used devices not only look great, but that they also work as good as new ones, and we take great pride in that.
Our Refurbished products come with a full 1-year, no questions asked warranty. If you buy any of our used products and for some reason you are not satisfied with it or something goes wrong within that first year, our Refresh guarantee will replace it or give you your money back. So what is there to lose? Absolutely nothing!
Take a look at our featured used products of the month:
Like New Yealink SIP-T42G $79.99
The Yealink T42G is a Gigabit medium-level IP Phone with HD Voice and a full duplex speakerphone. It is PoE, supports up to 12-lines and can be used with an RJ9 headset.
Learn more about the refurbished T42G here.
Like New Polycom VVX 501 $149.99
The Poly VVX 501 is a touchscreen, multimedia IP phone designed to improve Unified Communications. It can handle up to 12 line registrations and supports HD Voice.
Learn more about the Polycom VVX 501 here.
Like New Polycom IP 7000 $349.99
The IP 7000 is a conference phone designed for executive offices and/or small-to-medium conference rooms. It features a 20-foot microphone pickup range and high-fidelity audio for calls that are crips and clear. The IP 7000 is an expandable conference phone that can accommodate larger deployments with up to two devices.
Learn more about the Polycom IP 7000 here.
The products featured here are only a small part of our Refresh product line. To view our full catalog visit our Refresh page. For questions or help with ordering, call us at 1-800-398-8647 or chat with us on our website!