Now Available: Download Your 3CX Version 16 Update 5!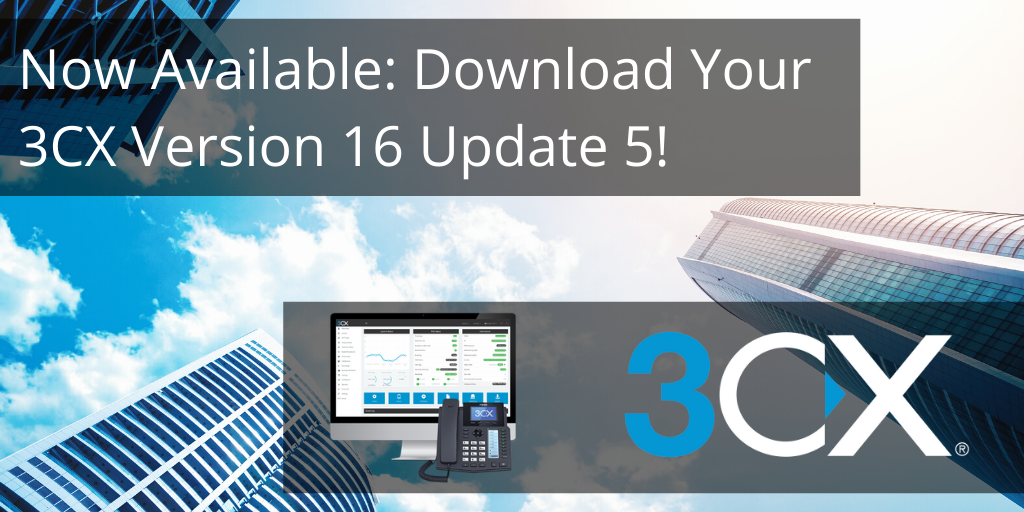 3CX continuously adds new features to your phone system to help your team communicate better! In 3CX version 16 update 5, 3CX focuses on improving the communication and collaboration tools utilized by your remote staff.
What's new from 3CX?
Enhanced Web Client: The infrastructure that supports the 3CX Web Client has been updated to communicate faster and more efficiently.
Beefed Up WebMeeting: The WebMeeting infrastructure has been upgraded and 3CX increased capacity by 700% to support increased demand at this crucial time. The standard licenses now support 100 participants, PRO supports 250, and enterprise supports a massive 500 participants!
Video calling from the new App: The new iOS app, which is expected to release in May, now supports video calling and has the ability to automatically reconnect calls as you move between networks or get caught out with a poor connection. Apple's new Push Infrastructure has also been updated to ensure you continue to receive call and message notifications. This new app requires Version 16, Update 5 so we suggest you upgrade as soon as possible!
How to Upgrade to 3CX Version 16 Update 5
Make sure your system is running the latest version of 3CX, version 16, update 4
Get valid maintenance on your license key
Upgrade to Update 5 directly from your 3CX Management Console
Once the iOS app is released in May, Click here to download the app.
Please note that 3CX version 15.5 is going end of life on July 1st, 2929 so it's important to upgrade to version 16 update 5 sooner than later!
Register for our 3CX Bootcamp webinar to stay on top of 3CX updates!