Our Top Like-New Poly Choices for the Month of July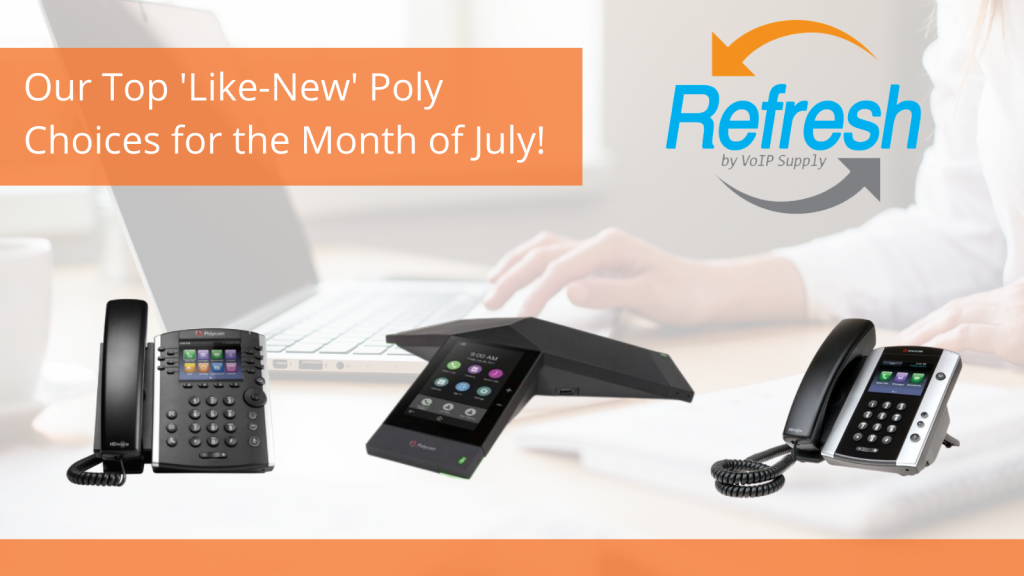 This month for our Refresh (Like-New) Top Picks we are featuring Poly desk phones that are great for small to large businesses alike. We also want to show you a great conference option for meeting rooms of all sizes.
The VVX 501 Like-New IP Phone is a Gigabit device with a touchscreen display. It is ideal for the busy professional who needs the best features in a deskphone in order to be productive.
VVX 501 Features:
Gesture-based, multitouch-capable, capacitive touch-screen
3.5-in TFT LCD display at QVGA (320 x 240 pixel) resolution, 4:3 aspect ratio
Screensaver and digital picture frame mode
On-screen virtual keyboard
Voicemail and videomail support *
Dual USB ports (2.0 compliant) for media and storage applications
WebKit-based browser
Adjustable base height
Check out more features of the VVX 501 here!
The Like-New Poly VVX 401 can help to upgrade any office or front desk with its top performance and a great design. The VVX 401 has HD Voice and a 3.5 inch color LCD display.
VVX 401 Features:
Backlit 3.5 in color LCD (320 x 240) resolution
Voicemail support *
WebKit-based browser
Adjustable base height
Single USB port (2.0 compliant) for media and storage applications
To learn more about this Poly Like-New model check out our page for more details.
Refresh also has great conference phone options such as the Trio 8500.
The Trio 8500 allows you to collaborate with colleagues in any room you are in. It has been designed with great acoustics and an aesthetically pleasing design.
Trio 8500 Features:
Gesture-based, multitouch-capable capacitive touch screen
5-inch color LCD (720 x 1280 pixel), 9:16 aspect ratio
On-screen virtual keyboard
1x USB 2.0 Type A-compliant host port USB battery charging BC1.2 compliant (requires full Class 4 power input on LAN IN for operation)
1x USB 2.0 Micro-B device port
Integrated Bluetooth 4.0
3 illuminated mute buttons
Unicode UTF-8-character support
Refresh has so many options for users of all verticals. If you are looking for something specific, never assume we don't carry it, and give us a call at 1-800-398-8647! We would be happy to discuss your specific needs with you.