Plantronics Clarity 340 Is going End of Life (EoL) Immediately
Plantronics today announced that their Clarity 340 handset is going end of life effective immediately.  This UC handset is ideal for enterprise workers who face collaboration issues due to hearing, vision, or dexterity challenges. For non-headset users, the Clarity 340 utilizes the power of PC communications and allows users who are specifically focused on making phone calls to connect via USB for the ultimate softphone solution.
Amplified 40dB audio with DCP digital sound processing

Built-in, full duplex speakerphone for high-quality audio with hands-free convenience

Easy to read color display screen

Standard 12-key telephone dial pad with a mute button
If you are interested in the Clarity 340, call our VoIP consultants at 1-800-398-8647 for pricing and availability!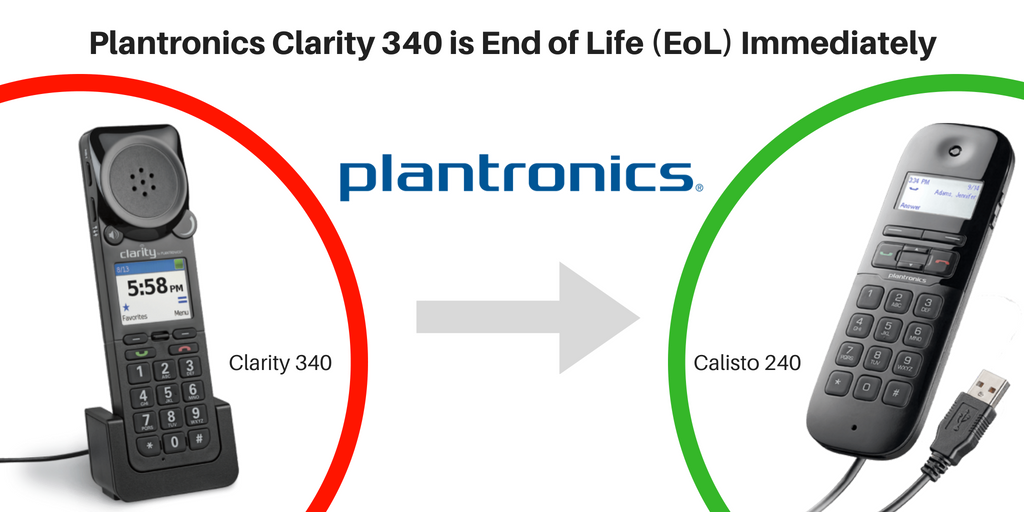 What's the replacement for the Clarity 340
For those who are searching for a replacement, we recommend the Calisto 240, a portable USB handset for PC communications. This device has wideband audio and a noise-canceling microphone in a familiar handset design.
LCD screen for easy call ID viewing and menu navigation

Wideband and noise-canceling microphone offer the best PC audio available

Built-in, full duplex personal speakerphone

SoundGuard provides protection against audio spikes