Sennheiser Launched a 24-hour Enterprise Advance Replacement program (EAR)
November 06, 2017 – Sennheiser, a leading provider of premium audio solutions for business, announces it has launched a 24-hour replacement program in the United States to swiftly address any incidence of defective headsets.
EAR stands for "Enterprise Advance Replacement". It is a unique program designed to provide new Sennheiser headsets overnight in the event that the headsets are found to be in need of repair or replacement.
The EAR program is designed to accommodate customer emergencies and build loyalty in the
marketplace. It is available only to companies located in the US, with shipping solely to US
addresses.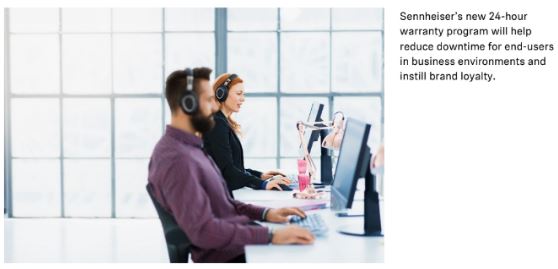 How Does It Work?
Companies using the Sennheiser business headsets can initiate the EAR process with a call to
Sennheiser's service department at 1-877-736-6434, extension 2.
The end-user must then immediately validate their product warranty by emailing a proof of purchase to the service department, which initiates the emergency replacement process. Companies with a valid warranty will not be billed for repairs or shipping, and those end-users can receive up to 25 replacement headsets overnight if ordered before 2:00 p.m. (Units required beyond the 25-piece maximum will be sent via ground.)
Resellers whose purchases are no longer under warranty can still take advantage of the replacement service, however, they will be billed the flat-rate repair fee which includes standard ground shipping. Overnight shipping is still available for an additional charge.
Questions? Learn more here!