SOHO DECT Systems
DECT Solutions for your SOHO Environment
So after reading my first two posts on DECT technology and how to design a DECT system, you are now ready to move forward with a solution that fully meets your needs from a hardware perspective. There are a few solutions that are viable to meet your needs with more on the brink. Since DECT phones are becoming more popular by the minute in the VoIP industry, we are seeing manufacturers entering this market and delivering robust cordless solutions that can meet the needs of any SOHO application. Below, we will detail a few of these solutions.
Panasonic DECT Solutions for the SOHO

The first solution is actually a new solution and actually a new "player" in the SIP DECT world. Panasonic who is well known for their analog cordless handsets which are very popular in your large retail chain stores such as Best Buy, Target, or Wal Mart have introduced 2 cordless SIP DECT Solutions to the market. The first solution is the KX-TGP550 which is a corded desk IP phone that ships with 1 additional DECT handset which pairs to the base phone. If you are familiar with the Aastra CT solutions, this is very similar EXCEPT, the KX-TGP550 can supply up to 6 additional KX-TPA50 DECT handsets and EACH handset can be allocated as its own individual unique SIP extension unlike the Astra solution that only allows 4 handsets and each handset inherits Line1 configuration of the base phone. Here is a good look at how the KX-TGP550 and KX-TPA50 handsets function.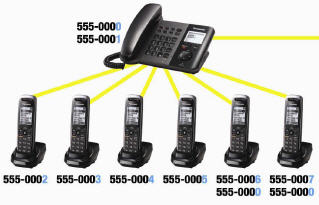 The solution allows for 8 individual SIP extensions but SIP extensions may also be shared between each handset and/or base unit. A good look at how this is configured via the web GUI interface is below: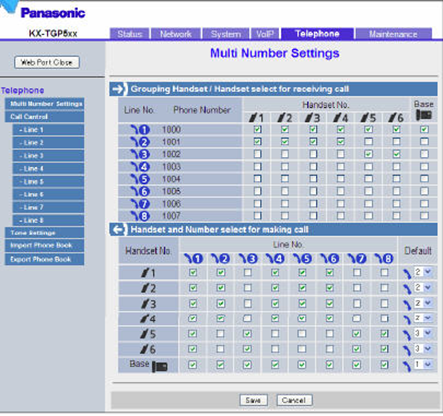 The KX-TGP550 base phone can also act as BLF/Speed dial application as it contains 6 keys which are each dedicated to a unique handset paired to it. Receptionists can use these buttons to see if the person is on a call or available to take a call and even press that users handset button to speed dial them. They can also press a "ALL" button which essentially calls every handset on the DECT network.  A good look at how this is setup and displayed is below: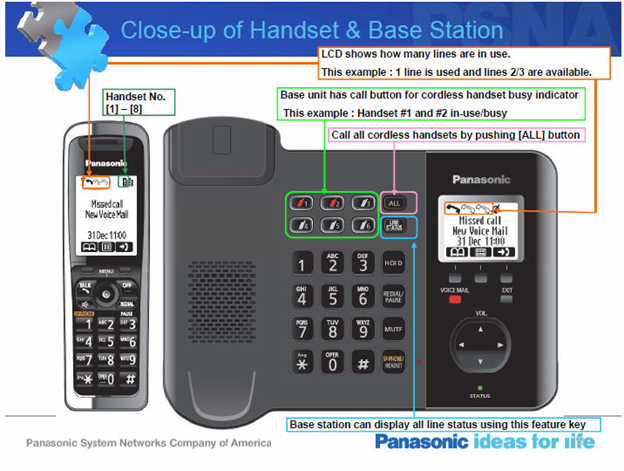 The next solution offered by Panasonic in the SIP DECT world is the KX-TPG500 which offers a DECT base station that physically connects to your LAN network via cat5 and transmits DECT signal as well handles the SIP registration between the paired DECT KX-TPA50 handsets and the SIP Call server or provider. The KX-TPG500 ships with a single base station and handset. It can support a total of 6 DECT KX-TPA50 handsets and 8 SIP registrations. Here is a good look at how this solution is setup: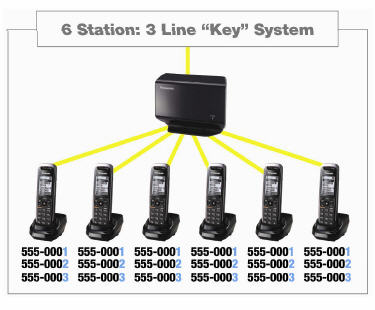 Both solutions are viable for SOHO applications and can completely transform your home or small office into an entire cordless mobile phone system. The only downside to these solutions is that there are currently no DECT repeaters available to extend DECT signaling to greater ranges.

The next DECT SOHO solution is manufactured by Snom and has been around for quite some time. The Snom DECT solution is called the Snom M3. The M3 ships with a DECT base station that transmits DECT signal and also handles SIP registration between the 8 additional M3 handsets that can be paired to it. It ships with 1 handset and each handset can be programmed with its own unique SIP extension. The base can handle 3 concurrent calls at any time and unlike most DECT solutions, the M3 DECT solutions offers DECT repeater options that can be spread out within the main base's DECT frequency to offer a greater range of DECT signal coverage. The base can support up to 6 additional DECT repeaters which can be purchased separately. Below is a good example of the Snom M3 solution and how the DECT repeaters offer greater signal coverage.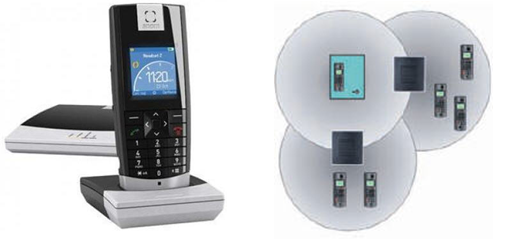 Each Snom handset supports a speakerphone option, 2.5mm headset jack, customizable ring/vibrate options, color LCD, out of range notification, low battery notification, and ships with its own desktop charger.


Aastra also offers a SIP DECT Solution called the MBU-400. The MBU-400 ships with a single MBU-400 DECT base station that broadcasts DECT frequency and handles 8 unique SIP registrations between each paired Aastra DECT 420d handset. The MBU-400 ships with 1 420d handset and can handle up to 8 total 420d handsets which can be purchased separately. The base is unique to other DECT solutions because it can handle 4 concurrent calls, 3 VoIP over the LAN connection, and 1 PSTN via its FXO port. This is also useful in cases where your network may go down. The FXO port is also utilized as a lifeline and calls are automatically routed over to the FXO port if the base loses its SIP registration or network connectivity.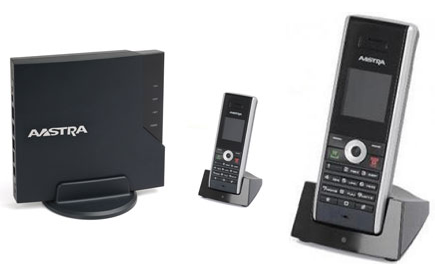 Each 420d handset offers a speakerphone, 2.5mm headset jack, ring and vibrate options, out of range indications, low battery indications, ships with its own desktop charger, color LCD, distinctive ringing, customizable phonebook, and over the air updates. The downside to the Aastra MBU-400 is it doesn't offer any DECT repeater option.

And last but not least, we have Siemens Gigaset which offers 2 SOHO SIP DECT solutions, the A580IP and S675IP. Pictured below the A580 IP ships with (1) A58H DECT handset and 1 DECT base station that interfaces with your LAN network. The base can support up to 6 total Siemens Gigaset DECT handsets and Siemens provides a few different models linked and pictured below. All handsets support Wideband voice quality through HDSP technology which is a feature that sets this solution apart from any of the DECT solutions talked about previously.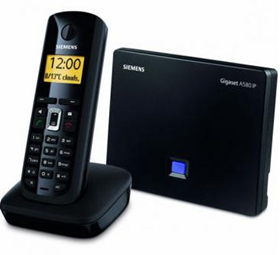 Additional Handsets that are supported on the A580 IP solution and can be mixed and matched include the following: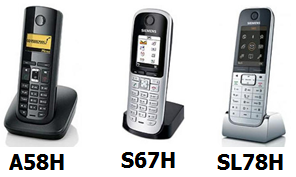 The second SOHO DECT solution offered by Siemens Gigaset is the S675 IP. The S675 IP solution ships with 1 S67H DECT handset and like the previous solution can support up to 6 total DECT handsets paired to the S675 IP base unit. The base unit contains a single LAN port to connect to your network as well as 1 FXO port to connect to your local land line. It supports 3 concurrent calls, 2 VOIP and 1 through the FXO port via PSTN. This is also used for failover. Below is a picture of the S675 IP and a listing of its supported HDSP DECT handsets.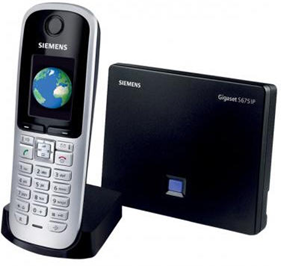 Additional Handsets that are supported on the A580 IP solution and can be mixed and matched include the following: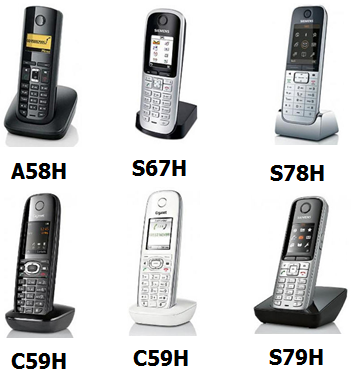 And that about does it for SOHO IP DECT solutions. Stay tuned for my nest post which will describe a few enterprise level DECT solutions.