Unboxing the Polycom VVX 1500 Business Media Phone
I was pleased to arrive at the office this morning to find a pair of Polycom VVX 1500 IP Videophones waiting for me. According to Polycom's marketing folks, the VVX 1500 is the first business media phone that combines advanced telephony, one-touch video, and integrated business applications into a seamless, lifelike experience.
The Polycom VVX 1500 combines DNA from Polycom's very successful SoundPoint series IP Telephones with technology from their industry leading Telepresence and Video products. The result is some serious eye candy.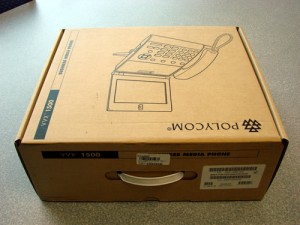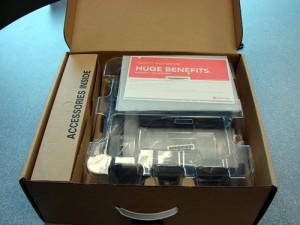 The VVX 1500 is housed in packaging very similar to Polycom's SoundStation IP4000/7000/7000. Included in the box are the VVX 1500 console, a Polycom HDVoice Handset with handset cord, Network (LAN) cable, Quick Start Guide and Product registration card.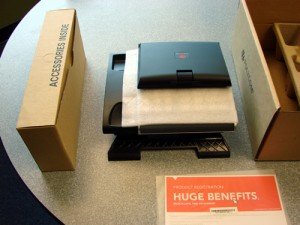 The unit is hefty, weighing in at 8lbs, with rubbery footpads that grip the desktop. You'd be very unlikely to accidentally knock this unit off your desk.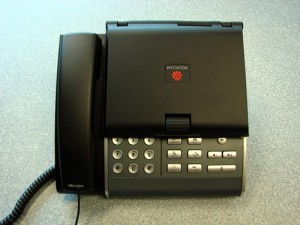 The fit and finish of the product is impressive. There are hard keys along the top of the base for launching applications, menu and directory access, as well as one-touch message access. The VVX 1500 has a nice tactile dialpad and 8 more hard keys for fixed features including redial, transfer, conference, hold, DND and speakerphone. The VVX 1500 can be manipulated using the hard keys or via the touchscreen. Along the side of the base are a USB port and headset jack.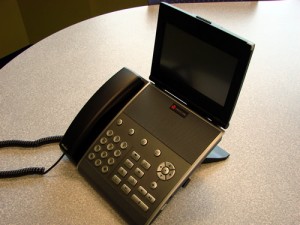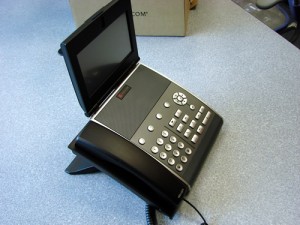 The VVX 1500 has a 7″ TFT LCD touchscreen with easily adjustable screen angle. Housed in the top of the display is a 2 megapixel camera, which can be disabled with a simply privacy shutter.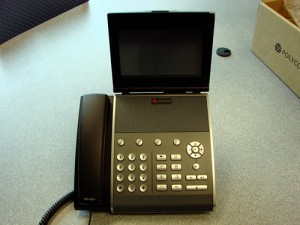 Later this week we'll walk you through the process of integrating the Polycom VVX 1500 with Digium's Switchvox IP PBX platform, and share with you further results of our testing. We'll also test drive the point to point video capabilities of the phone in detail.