Vivotek Unveils Extreme Weatherproof PTZ IP Camera Series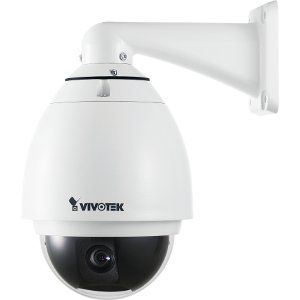 Vivotek has released a new series of extreme weatherproof speed dome IP cameras.  Aimed at replacing earlier models, the new Vivotek SD83xxE PTZ cameras will of course have IP66 rated enclosures for tough outdoor conditions from snow to desert extremes.
The new Vivotek Outdoor PTZ IP camera series will also provide:
Joystick controlled PTZ features with 360° continuous pan and 90° tilt functionality with automatic patrol option.
H.264 compression including MPEG4 and MJPEG encoding for flexible video streaming tailored to your needs.
Wide Dynamic Range (WDR) Pro support for challenging lighting conditions.
IR-cut filter for true day/night functionality.
Local data storage on an SD/SDHC card slot.
Model Differences
The main differentiating factors in the new models are resolution and optical zoom capabilities:
SD8311E:  18x optical zoom at 720×480 D1 resolution
SD8312E:  28x optical zoom at 720×480 D1 resolution
SD8313E:  36x optical zoom at 720×480 D1 resolution
SD8362E:  20x zoom at 1080p full HD resolution.
The heightened image clarity from the Vivotek SD8362E Outdoor PTZ IP camera can reveals detail such as lettering on buildings, containers, or vehicles and can be viewed from as far as over 1 mile (1.6 km) away.
Vivotek SD8311E/8312E/8313E models rely on Electronic Image Stabilization (EIS) to minimize vibration from the camera being mounted in high locations and the SD8362E also includes an audio alert feature to detect changes in volume in the surrounding environment.