Why not buy VoIP Supply's Refresh?
If you are in search of Polycom phones to update your current VoIP environment or to replenish a new office, don't overlook our Refresh offerings. Our Refresh Polycom phones are great quality used phones that have undergone a 10-step reconditioning process to assure that you get the best of the best. And the best part of it all is that they come with a full six-month worry-free guarantee.
Watch below for the process of Examining, Upgrading, Setting to default, and Repackaging Refresh products.
The VVX 310 is a Gigabit six line phone that provides crystal clear communications and enhances the workplace with collaboration tools and personal productivity features. Receive meeting reminders and alerts, manage your Microsoft Exchange calendar and see your colleagues' Instant Messaging presence/status right on the screen of the VVX 310.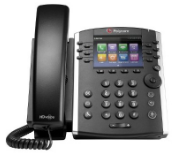 The VVX 410 is a 12-line Gigabit IP Phone featuring High Definition (HD) Voice and a 3.5 color LCD display. This is a great phone for office environments handling a moderate volume of calls and also suitable for Unified Communications (UC) applications.
A conference phone for all conference rooms, the IP 7000 provides high-fidelity conference calls for clear, life-life communication. With flexible configuration options and strong interoperability, the IP 7000 is a great choice not just for conference rooms, but for executive offices, boardrooms, and huddle rooms alike.
These are just a few of the Polycom Refresh options that VoIP Supply has to offer. Take a look at our Refresh Catalog to view more. With so many options at a great price and with a 6-month guarantee, we think you would agree when we say, "Why not buy Refresh?"