3CX V15.5 Goes End of Life July 1st, 2020 – What You Need to Do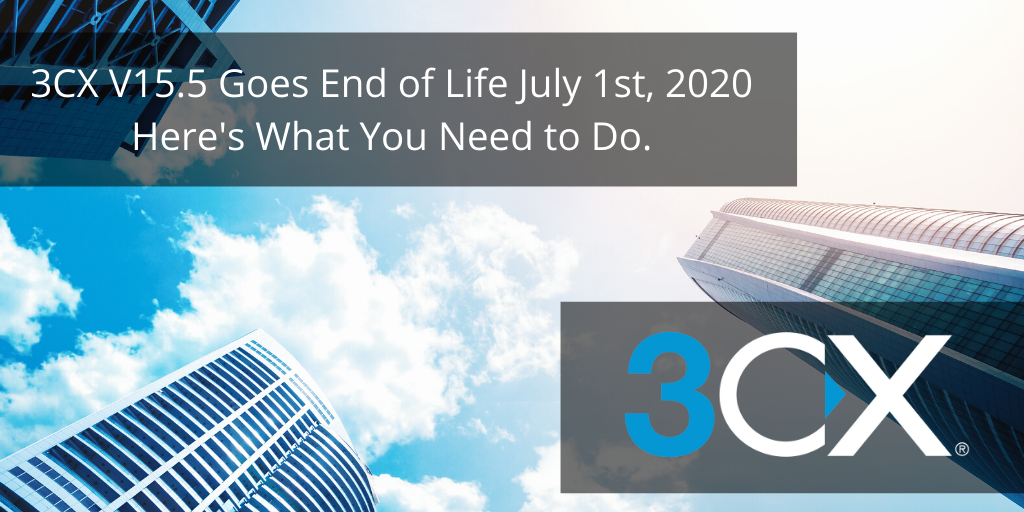 Recently, 3CX announced that their 3CX version 15.5 will be marked as end of life (EoL) starting July 1st, 2020. As of July 1st, 3CX will no longer offer support for v15.5. No future product updates, firmware updates or technical support will be available for v15.5.
What Actions Need to be Taken?
To ensure you can take advantage of the most up to date features, we recommend you upgrade your 3CX to version 16, update 4 now and be prepared for the release of version 16, update 5. Use this Quick Upgrade Guide to find your upgrade path and once you or your customer is on v16, Update 4, you will be able to upgrade again to Update 5 with just one simple click when it's released!
What's New in V16 Update 4?
Updated Apple Push – Apple Inc.®️ is changing the way its APIs deliver push messages to iOS devices, which 3CX uses to notify users of incoming calls and chats.
New 3CX iOS App – The new 3CX iOS app uses 3CX APIs. The new app is currently available in Beta with the full release expected towards the beginning of May. Join the iOS Beta program to test future updates.
911 Compliance – The new 3CX 911 module will help customers in North America be compliant with the new e911 regulations.
Call one of our VoIP experts at 1-800-398-8647 to learn more about upgrading your 3CX today!