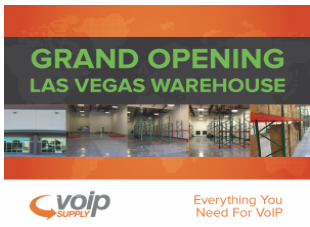 April 17, 2017 – Telecom Reseller featured a news story in their channel daily news podcast about VoIP Supply's new fulfillment center which was opened last March in Las Vegas, Nevada.
The team behind VoIP Fulfillment by VoIP Supply has been providing provisioning and fulfillment to VoIP Service Providers since the industry's beginning. Many of our past and current customers were pioneers in residential and hosted VoIP back in the early 2000 era.
"We launched our new fulfillment center at the Channel Partner event last March and opened the doors at the same time. We had a great year completing provisioning, fulfillment service orders for a wide variety of Voice over IP providers." – Ben Sayers, CEO and Founder of VoIP Supply.
Our service has …