5 Benefits of VoIP Phone Systems in Schools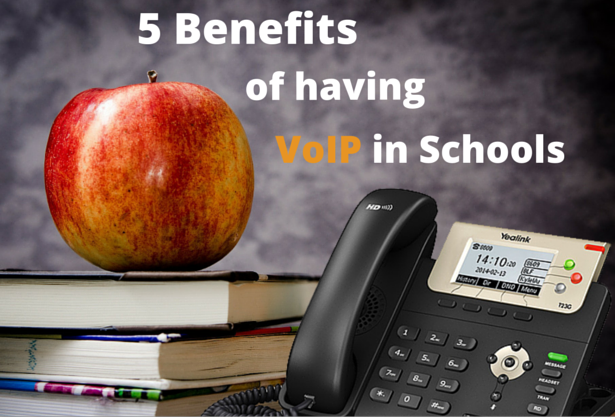 VoIP technology is not just a business phone system application. VoIP service and hardware can be beneficial in schools or university settings. Below you will find 5 reasons and explanations on why a VoIP phone system will bring an added value to the education system.
Reduce costs
With the ability to get rid of your old telephony lines and turn your phone system over to your internet connection, the costs will immediately be reduced. Also with all the collaborative features involved in a VoIP system you may be able to find other software programs or add ons that can be dropped due to your new VoIP phone system.
Interact in multiple ways
With multiple types of communication avenues, it makes it much easier to get the word out. Explore different avenues of communication with VoIP such as:
Quick Phone Calls with 4 digit dialing
Video Calls via personal devices or large conference groups
Messages (email, IM or SMS)
Fax over IP
Connect Easily with Other Classrooms
With a VoIP phone system you can bring all classrooms under one roof. Do you have a foreign language program? You can easily interact with other classrooms around the world using a VoIP phone system. Bring mentor programs into your schools with video conferencing, messaging and audio conference calls.
Within a university setting, there are satellite campuses and certain labs or offices that are not on all campuses. With VoIP you can bring all those rooms and offices into one central location.
No Need for a Separate Bell System
When purchasing a bell system for a building it can become quite pricey and also add another system that you will need to intertwine with your current system. When implementing a VoIP phone system, you have the ability to incorporate a bell system within the feature set of the phone.
If you already have an existing paging system you can connect it to your VoIP system with a snom PA-1. If you're interested in purchasing a new paging system there are plenty of IP paging products available to you.
Along with a bell system you also have the ability to enhance your emergency notification system. The ability to target where and when certain notifications are broadcast can greatly reduce issues during emergency situations.
Increase Communications with Parents
With access to different types of communications, the relationship between the teacher and parent will grow and increase. As you already understand, having parents more involved in the student's education will produce better results.
Contact us today with inquiries and questions
Now that you have some more information about the benefits of VoIP in education settings please contact our solution specialists with any and all of your additional questions. They are always up to the challenge of finding a solution for your want or need. You can reach them at 1-800-398-VoIP or [email protected].