5 Poly Home Office Bundles for Efficient Remote Working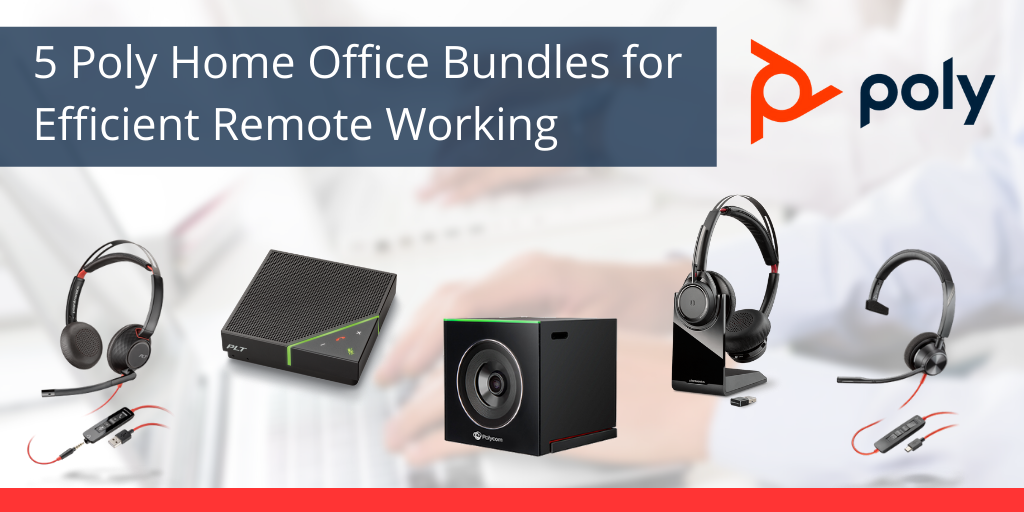 Are you a little lost in the search for your work-from-home communication equipment? We have you covered! During our co-hosted Poly webinar this month, our team introduced the five most popular home office bundles from Poly that will make your remote working as smooth as possible. Let's check them out:
Download the presentation slides here!
1. Simple Setup Bundle
If you want something with a quick setup, check out the Blackwire 5220 headset and EagleEye Mini camera. This simple bundle will instantly add quality audio and video collaboration to your home office.
2. Versatile Home Office Bundle
The Voyager 4220 UC headset, Calisto speakerphone, and EagleEye Mini camera offer easy multiple connection options which are important for working remotely so you can stay connected at all times.
3. All Day Video Conferencing Bundle
The Voyager Focus noise-canceling headset, Calisto 5200 speakerphone, and EagleEye Cube camera are the best combination for all-day video conferencing. This bundle allows users to listen comfortably and move about during meetings.
4. Remote Contact Center Bundle:
This bundle will ensure your contact center team continues to deliver high-quality customer service, and stay engaged with their team members.
5. Executive Home Office Bundle
The Elara 60 smartphone station allows executives to connect their mobile devices to the statement easily and use the included Voyager Focus headset to make and receive high-quality calls. Add a Poly Studio USB video for the most versatility and performance right in your own home.
Give our VoIP experts a call at 1-800-398-8647 today to find your ideal WFH solutions today!