5 Spooktacular Features that Makes CISCO 8800 Series MPP Phones Stand Out in the Crowd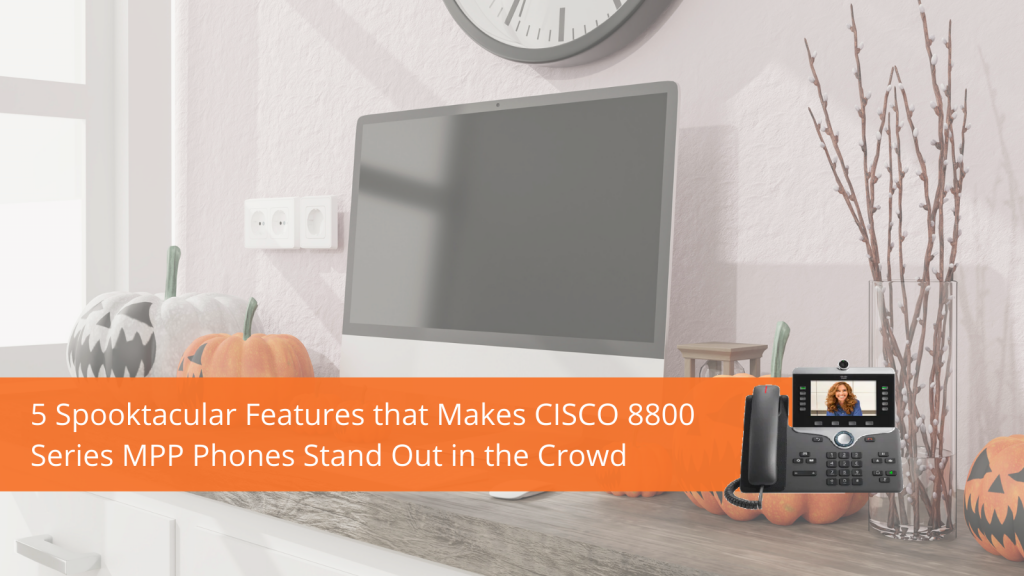 Don't get left behind… If you haven't checked out Cisco's new 8800 Series, you are really missing out! The Cisco 8800 Series is designed for knowledge workers, administrative and executive staff, or any professionals looking to have a video conferencing experience right at their desk. Why is everyone talking about Cisco's new 8800 Series? Let me walk you through some of the popular features that really make them stand out in the crowd!
Regulation Compliant
The 8800 Series is the most secure phone on the market! It is compliant with regulations like GDPR, HIPAA, PCI, and more.
HD Video Support
Our customers enjoy the affordable entry to HD video on the Cisco 8845 and the Cisco 8865! The camera add-on makes it so easy for remote workers to communicate and increase productivity.
Mobile Integration
You will love the Bluetooth mobile integration for hands-free usage! This series also comes with desktop Wi-Fi and fast-charging USB for tablets and smartphones. These flexible features allow you to work wherever you want, and however you like!
Cost-Effective Administration
Cisco's 8800 Series is designed to help you cut costs! The flexible deployment options help you maximize your investment. Your remote workers can get single sign-on access with Cisco Expressway and be protected with the least encryption.
Environmental Friendly
Did you know that the Cisco 8800 Series is made from 100% PCR resin? Doesn't it feel great to know that the devices you use reduce waste and lower environmental footprint?
Check out this comparison chart below to see what each model offers:
Are you ready to learn more about the Cisco 8800 Series? Visit our website or simply give our VoIP experts a call at 1-800-398-8647!