7 Best Headsets for Working From Home (WFH)
Are you prepared for working from home? Remote working can be quite different from working in the office. Noise cancelling, quick disconnect, binaural or monaural, ….there are so many features you have to consider. Why not let our team do the research for you? Check out our 7 top-pick headsets for working from home employees.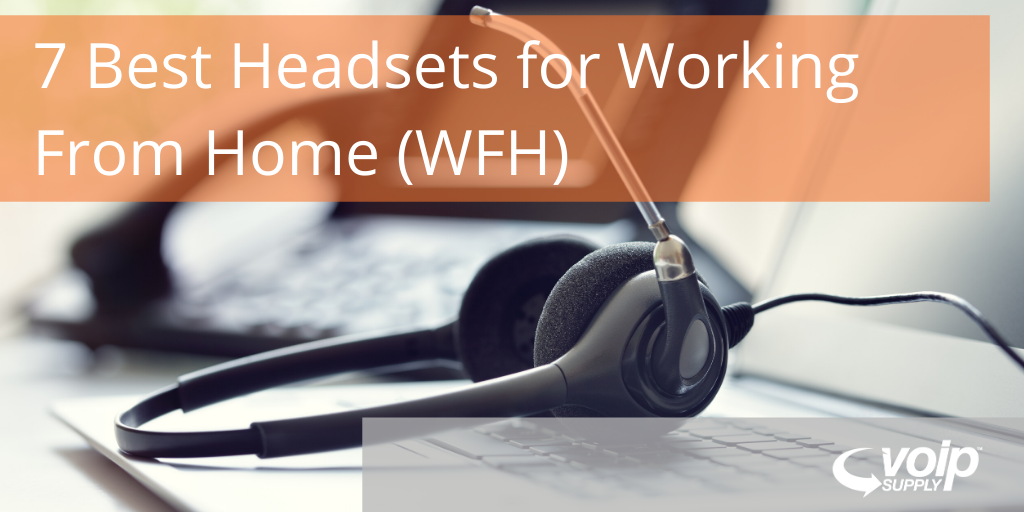 The Biz 1500 is one of the most affordable headsets from Jabra designed for call center staff and remote workers. These headsets are comfortable for all day use and they come with advanced features such as noise cancelling, 270 degree boom arm, and more.
Jabra's Evolve 20 is another great VoIP headset for working from home. Mono and binaural options are both available. These headsets feature Digital Signaling Processing (DSP) for reducing background noise. They also come with comfortable foam ear cushions and an adjustable mic boom to make this a convertible, versatile headset!
Similar to Jabra's Evolve 20, the evolve 40 is a corded stereo headset for VoIP softphones, mobile phones and tablets. This VoIP headset is built with great noise cancelling technology and it is adaptable with USB using its 3.5 mm jack to connect to your device.
If you are looking for an easy to deploy headset that you can set up quickly for working at home, you can't miss out on Poly's Blackwire C3220. This headset is super lightweight and durable for all day use. The wideband audio and noise cancellation features will make sure you can hear and be heard clearly.
For a multi-tasker like you, you need Poly's Blackwire 3210, a corded, one-ear versatile headset that offers USB-A connectivity. This headset is equipped with a variety of connectivity and wearing options, perfect for softphone users and WFH staff.
How about wireless headsets? Check out Plantronics Voyager Legend UC B235! With a small USB Bluetooth dongle, you will be able to use your headset easily with laptops and desktop computers without annoying wires. The B235 also gives you the convenience of answering and/or transfer calls between your mobile and headset automatically.
Another great wireless headset option for working from home is Poly's Voyager 6200 UC. This professional-grade earbud neckband headset works perfectly outside the office environment. It is certified for Skype for Business. You can pair these earbuds with up to 8 devices at a time and connect them with any two devices at the same time, saving you a tremendous amount of time switching calls back and forth!
What headsets are you using for your work? Staying connected with your colleagues outside of your office doesn't have to be difficult! Call one of our VoIP consultants at 1-8000-398-8647 and we will be happy to help you find out the best VoIP headset and equipment you need!