The Top 9 Benefits of SIP Trunking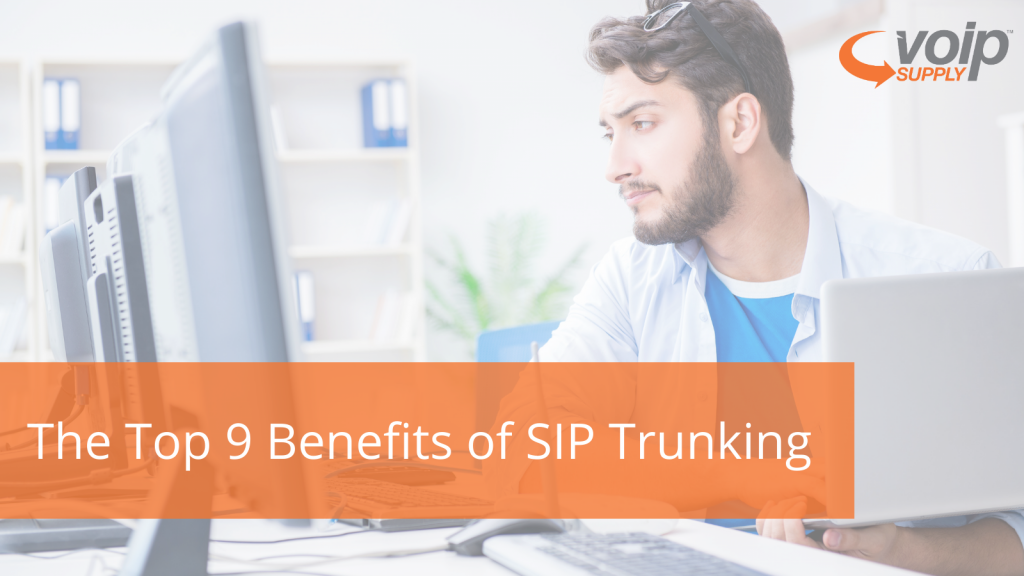 Note: This article was originally written by Garrett Smith in 2006 and edited by Ying-Hui (Evy) Chen on September 25th, 2020.
One of the biggest "buzz" words in the industry is SIP Trunking. For those of you who are not yet familiar with SIP Trunking, now is your chance to get some insights!
FREE Download our SIP Trunking Guide
What Does SIP Trunking Do?
SIP Trunking is based on SIP. SIP stands for Session Initiation Protocol. SIP is an application-layer control (signaling) protocol for creating, modifying, and terminating sessions with one or more participants. It is widely used as the signaling protocol for VoIP calling and is widely thought of as the standard for VoIP calling. 
Typically, a company's VoIP calls will involve a circuit switched handoff to the PSTN outside of the company's local area network. With SIP Trunking, the company's VoIP Service Provider handoff's calls via the Service Providers SIP Network. Calls that are going to the PSTN will routed over the Service Providers IP backbone to the nearest PSTN gateway.
For the truly non-technical, a SIP Trunk is simlar to a phone-line, except that a SIP Trunk utilizes the IP network, not the PSTN. SIP Trunking also allows for convergence of voice and data onto common all-IP connections.
The Top 9 Benefits of SIP Trunking
So why should you be using SIP Trunking? Here are 9 Benefits of SIP Trunking that help answer that question.
Reduce Hardware Cost:

SIP Trunking reduces or eliminates the costs associated with the purchase of hardware media gateways.

Reduce Maintenance Costs:

SIP Trunking also reduces or eliminates the costs associated with the ongoing support and maintenance costs of hardware media gateways.

Reduce Recurring Costs:

SIP Trunking reduces the recurring costs of separate PSTN and data circuits (some dedicated to voice, some to data).

SIP Trunking eliminates the over-subscription of voice channels based on business requirements.

Support Multimedia Communication:

SIP Trunking supports multiple forms of communication including video and instant messaging allowing for greater levels of user presence.

Utilize Direct Inward Dials (DIDs):

SIP Trunking utilizes DID's (Direct Inward Dials) that allows each employee to have their own phone line. This increases the flexibility and implementation of call control and dial plans.

Improve Call Quality:

SIP Trunking improves the call quality of voice based IP communications because each SIP Trunk is a dedicated "channel."

Reduce Long-Distance Fees:

SIP Trunking reduces toll charges from SIP origination/termination services to the PSTN for external long-distance and local access calls.

Increase Flexibility:

SIP Trunking allows for the selection of a single SIP Trunk which increases the flexibility and ease of adding, subtracting, or changing a line.
SIP Trunking is a unique product that delivers great benefits to small and medium businesses. As one of the hottest new products in the VoIP industry, there will soon be an increase in SIP Trunking offerings from a number of different providers. 
In addition to the 9 benefits of SIP Trunking listed above, make sure that prior to making any business communication decisions on SIP Trunking, you fully consult with your service provider of choice about the implications of this decision on your business. 
Download our SIP Trunking buyers guide here to learn more! Contact one of our VoIP experts at 1-800-398-8647 today to get a free consultation.