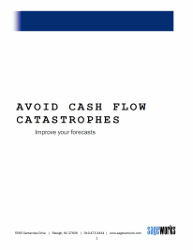 This is not our usual VoIP related post but hey, it's Friday and we like to let our hair down too once in awhile to discuss exciting things like…cash flow forecasting?
VoIP Supply's CFO, Paula Griffo, was interviewed last month by Sageworks about reducing operating expenses and the challenge of developing accurate cash-flow forecasts for a small business.
Now, Sageworks has published a new whitepaper that includes Griffo's advice.  More importantly, it's a great resources for any small business to improve their forecasting.
The whitepaper, "Avoid Cash Flow Catastrophes," will give your business insight on:
Why cash flow is so difficult?
How do I do it / How often should I do it?
How much cash should I have?
How can cash flow forecasts go wrong?
Click here to download "Avoid Cash Flow Catastrophes" and visit Sageworks for financial analysis solutions.
Via Sageworks