A Comparison of the 4 Best VoIP WiFi Phones: MWP1100A, ICW-1000G, Liberty L2, and SIP-T52S
WiFi phones give the user the luxury of being able to make and receive calls through their VoIP service anywhere in the world with an Internet connection. If you need to be mobile and don't want to pay huge cell phone bills, WiFi phones could be a perfect solution for you and your business, to make VoIP calls at almost no cost!
With so many options out there, we know it can be confusing to choose the right WiFi phones for your business. So we put together a collection of the four most popular VoIP WiFi phones at VoIP Supply, to give you an idea of what people are looking at. Let's check them out!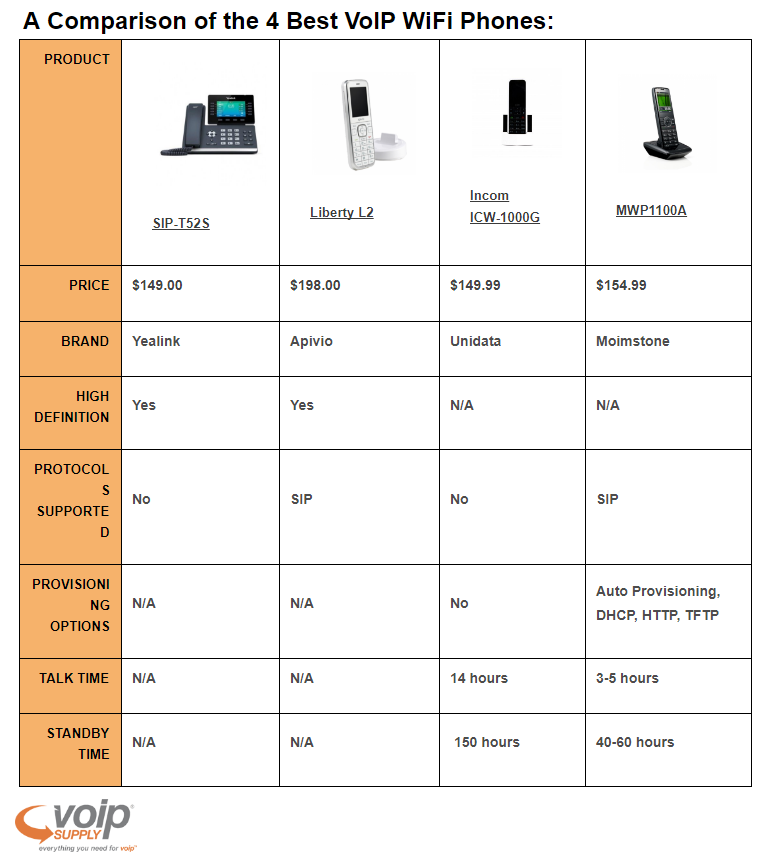 The Moimstone MWP1100A is a Wi-Fi phone that supports both 2.4 GHz and 5GHz frequency bands so it can be used anywhere with Internet phone service. This sleek and stylish design supports IEEE802.11 a/b/g/n with field proven stability from major carriers. The MWP1100A features an easy-to-use interface and a 2.4-inch color LCD screen to maximize ease of use.
This Dual-Band WiFi VoIP phone is a very flexible option with all the features you expected including call history, phonebook, caller ID, redial, and more! It also comes with WEP, WPA, and WPA2 support, voice, and data encryption methods to protect your system against hacking and tapping this WiFi phone. A truly comprehensive VoIP WiFi solution!
Key Features: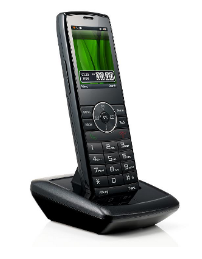 Wi-Fi Dual Band Mode

Easy User Interface

Color LCD

User Interface

Thorough Security

Unified Communication Service

Wi-Fi 2.4GHz(13Channel), 5GHz(19Channel)

Standard SIP(RFC 3261)
Another popular WiFi option is the ICW-1000G. The ICW-1000G is designed to be used with mobility across a wide range of deployments. The SIP-based ICW-1000G supports 802.11a/b/g/n and it has a built-in speakerphone and other calling handling features such as phonebook search, speed dial, adjustable display brightness and more. Our customers love the ICW-1000G's long-lasting battery for whole day use and the auto-provisioning during boot up sequence.
Key Features:
Polyphonic MIDI Ring/Vibration ringer

Simultaneous bell and vibration effects

Hotkey for vibration and ring toggling

Adjustable ringing and volume levels

Adjustable display brightness and timeout

100 call history of inbound, outbound and missed call

500 phone book with 30 grouping

99 speed dial
Download the ICW-1000G User's Manual
Apivio's Liberty L2 combines HD quality voice technology with a unique Web Authentication feature to give users total mobility at home, in the office or even out on the road. Designed with the user's best experience in mind, the Liberty L2 operates on a dual band frequency, complies with IEEE802.11 a/b/g/n and utilize HD Codec G.711.1/G.722 for crystal clear sound quality and maximum connection reliability.
It features a full-duplex speakerphone for hands-free talking, screen text input mode, high capacity battery, web authentication, unified management service via CLive and more!
Key Features:
Standard SIP (RFC3261)

Dual Band 2.4GHz & 5GHz

Multi-Line (2 accounts)

Push-to-Talk (PTT)

Full-Duplex Speaker Phone

Service Management with CLive (Auto Registry System)

Screen Text Input Method

Web authentication via Automatic Web Browser

Earphones (w/3.5Ф, 4pole type)

Battery: Li-ion, 1500mA

Stand-by time: 100 Hr
Download the Liberty L2 Datasheet
Comparing to the other three best sellers here, the Yealink SIP-T52S sits at a lower price point. The SIP-T52S is a member of the Yealink T5 Series IP Phones and it supports the installation of third-party applications to business settings. Designed for busy executives and managers, the T52S offers a color LCD 2.8-inch 480×272 pixels screen, high-quality.  speakerphone with echo cancellation, up to 16 accounts, and 3-way conference, and more.
Key Features:
Color LCD 2.8 inch 480 x 272 pixels

HD audio and full-duplex speakerphone

Dual-port Gigabit Ethernet (router and switch) with PoE

High-quality speakerphone with echo cancellation

Up to 16 SIP accounts, 3-way conference
Download the SIP-T52S Datasheet
There you have it! Questions about the WiFi phones? Don't wait. Call our VoIP experts at 1-800-398-8647 now!