Advantages of Cisco Wireless IP Phones
Today's empowered employees are more mobile than ever. This is a trend that is expected to continue as collaboration technologies enable experiences independent of workspace or modality.  Today's IP phone (at least many Cisco models) provides much more than tip and ring functionality which means, only plain old voice.
If you've visited a local Best Buy store recently, you may have observed a retail employee using a Cisco Unified IP Phone to perform timecard functions.  Cisco phones are also used for inventory management or supply chain functions in manufacturing or other retail settings.  In healthcare, a Cisco Unified IP Phone can provide doctors with alerts on patient status and specific medical instructions.
Lastly, there's something to be said about voice quality and service availability. In a financial services environment where decisions are made in split seconds, can enterprises afford a best-efforts, non-guaranteed service approach to voice? 
This brings me to introduce the line of Cisco Wireless IP Phones and the advantages they offer.
Let me preface this post by saying – I implore you to check with your VoIP service provider or phone administrator to ensure compatibility with your IP/PBX or service.  Most Cisco Wi-Fi phones require Cisco Call Manager License. 
Good, now that we have that out of the way we can talk about the Wireless IP Phones Cisco has to offer.
Cisco CP-7921G
The first on my list is the Cisco CP-7921G. 
Extend advanced voice and unified communications capabilities across your enterprise with the new Cisco 7921G Unified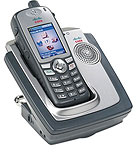 Wireless IP Phone. This sleek, second-generation wireless IP phone supports a host of calling features and voice-quality enhancements, including:
IEEE 802.11a, b, and g standards that allow customers to use the phone in the 2.4 GHz or 5 GHz bands
A larger (2-inch) color display (176 X 220 TFT) that is easier to read and enhances XML applications
Built-in speakerphone capabilities
More intuitive interface
A new combination charger and speakerphone stand for enhanced desktop functionality
Dedicated mute and volume keys, and separate Application button that can support Push-to-Talk via Extensible Markup Language (XML)
Longer battery life (200 hours standby time or 15.5 hours talk time)
High durability for all business environments
Exceptional voice quality with support for wideband audio
Diversity antenna for better RF coverage
Support for wide range of enterprise applications through XML
Wireless security features including LEAP, PEAP, EAP-FAST, EAP-TLS, WPA, WPA2, CCKM, WEP, TKIP/MIC, AES
Voice security features including Certificates, Secure Real-Time Protocol (SRTP), and Transport Layer Security (TLS)
Quality of service features including WMM, TSPEC, EDCA, QBSS
Cisco CP-7925G
Second on the list is the Cisco CP-7925G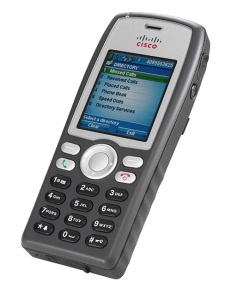 Enhance the user experience and personal freedom with support for Bluetooth. Increase business continuity by taking advantage of a new ruggedized industrial design.
The Cisco Unified Wireless IP Phone 7925G for mobile professionals extends the functionality of the existing Cisco Unified Wireless IP Phone 7921G with the following new features:
Support for Bluetooth v2.0 headset profiles gives you more freedom
Hermetically sealed phone/display is IP54 rated, protects against dust, liquids, and moist wipes, and is ideal for deployment in more demanding environments
Ruggedized industrial design is compliant with military 810F standard and includes a rubber casing to shield the phone from damage caused by drops and shocks
A more compact form factor gives you an IP phone that is easier to hold
Cisco CP-7925G-EX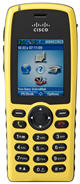 Last but definitely not least, I give you the Cisco CP-7925G-EX (Bomb resistant!!) 
Enhance the user experience by extending feature-rich collaborative communications to mobile workers within hazardous environments.
The Cisco Unified Wireless IP Phone 7925G-EX delivers all of the capabilities of the Cisco 7925G Unified Wireless IP Phone  with the ruggedness and resiliency that is certified for deployment in potentially explosive environments such as chemical and manufacturing plants, utilities, and oil refineries.
Features include:
Atmospheres Explosibles (ATEX) Zone 2/Class 22 and Canadian Standards Association (CSA) Class I Division II certifications
IP64 rating for superior dust resistance with splashing water resistance adds resiliency.
Industry-standard yellow styling offers fast recognition in event of an emergency.
802.11a/b/g standards for voice over WLAN (VoWLAN) communications support.
Supports third-party Bluetooth 2.0 headsets for added freedom
Large 2-inch color (176 x 220 pixels) display makes viewing easy.
Exceptional voice quality with high-definition voice (HD voice)
Built-in full-duplex speakerphone for high-quality hands-free communications.
Applications key provides direct access to XML applications such as push-to-talk and Lone Worker.
Extended-life batteries deliver a minimum of 13 hours talk time and up to 240 hours standby