Algo 8373 & 8301 Paging Adapters Comparison – How to choose the right device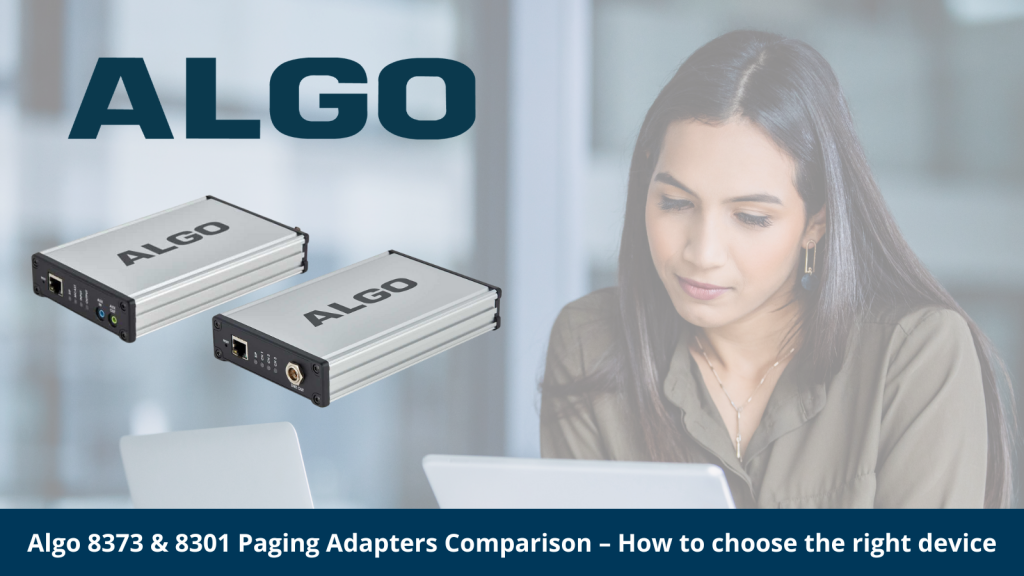 While many organizations choose to deploy full IP systems with dedicated IP speakers, some businesses still see value in their reliable and usable traditional infrastructure. That's where Algo's paging adapters come into play!
Algo's paging adapters seamlessly bridge VoIP systems to your analog devices, allowing a smooth communication experience. Algo offers two types of paging adapters, the 8373 IP Paging Adapter and the 8301 Zone Paging Adapter.
Algo 8373 vs Algo 8301 – What are the differences?
While the 8373 and 8301 paging adapters are very similar in their core functionality, they are designed for different applications and environments.
Either of these two adapters can register to any hosted or premise-based IP phone system as a 3rd party SIP endpoint, enabling a full integration of a traditional analog paging system to VoIP. The type of paging adapter required is dependent on the needs of your environment.
The 8373 is ideal for: Where organizations utilized zoned paging amplifiers. If you have one amplifier, but want to create zone paging by controlling up to 3 sets of analog speakers from the amplifier
The 8301 is ideal for: When the legacy amplifier doesn't have dedicated speaker zones behind the amplifier. The 8301 also comes with some features that the 8373 doesn't have such as:

Music input
Scheduler for automating announcements, bells, etc.
Expanded SIP registration options for up to 10 Ring extensions for emergency alerting
See a feature comparison chart here:
Download the comparison sheet or visit Algo's website for more information on the differences between the 8373 and 8301 paging adapters!