April 2008 New Product Roundup
Von and Voicecon Industry Shows recap
The shows have brought new products to the market and the foloowing is a brief recap on the new offerings rolling out.
Grandstream

Brookline, Mass.-based Grandstream Communications has thrown its hat into the IP PBX ring with the release of its GXE502X SIP PBX Appliance. The GXE502X comes in a 4FXO and 8FXO version, allowing easy integration of analog (POTS) PSTN trunks. The product also carries a price point which should make it appealing to small businesses with a limited budget. All the typical IP PBX features are present, including autoattendant, voicemail, configurable dial plan and one-touch provisioning SIP trunking support.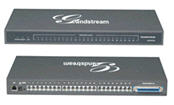 Grandstream is also readying a 24 port FXS SIP gateway, the GXW4024….offering 24 analog connections for legacy PBX and analog endpoint integration with Asterisk and other SIP platforms.
Polycom has introduced two new SIP conference phones, both supporting their new HDVoice wideband audio codec.

The Soundpoint IP6000 figures to replace the popular IP4000 model. The Soundpoint IP7000 incorporates a sleek new form factor, and a few features not found in the 4000/6000. Both conference phones also offer native support for 802.3af Power over Ethernet, which is an appreciated addition.

Digium has several new product additions. First off, they have released a new, small form factor solid state appliance to host their popular Switchvox SOHO and SMB Edition IP PBX software. The new AA60 supports Digium FXS/FXO TDM cards, and supports up to 10 concurrent calls. The AA60 is a directly replacement for the Switchvox midtower server, which is no longer available.

Digium has also replaced their popular, low-density TDM400 series PCI FXS/FXO cards with the new TDM410 series. The form factor is very similar, but the cards are now available with optional Octasic hardware echo cancellation module.

Canadian firm Aastra is also readying an IP PBX appliance solution based upon Asterisk Open Source software. The Aastralink Pro 160 offers a wide range of PBX functions, supports SIP trunking, and offers up to six integrated FXO ports for PSTN Analog POTS integration.