This is my desk. There are many like it, but this one is mine. . .and boy is it a bit of a mess.
So why am I reciting a variation of the Rifleman's Creed and showing a cluttered photo of my desk?
Partially to publicly shame myself into taking some action and clean it up but also to talk about a small problem I have that is shown in the photo, that I can now admit to openly and take steps to conquer.
I am not talking about the layer of dust over everything that rivals a mid-winter snow storm, the fact it is one of the last Fridays in the summer and I'm at work, or the two phones on my desk but, the pile of four headsets on my desk.
I am a Headset Hoarder
It feels good to finally be able to say it and start my path to recovery.
Recognizing My Headset Hoarding
For the record the four headsets shown are the VXi UC ProSet Lux, Sennheiser SC 260, Sennheiser SC 230 and Jabra Chill. In addition to those outside of the photo I also have a new VXi V150 which I am going to be testing next week, a Jabra SPEAK 410, a Plantronics Voyager Legend and a pair of Sennheiser CX310 headphones. As I said, I am a Headset Hoarder on the cusp of being featured on a headsets episode of Hoarders.
On their own each of these headsets are very good and do a great job. From the use and abuse I've put them through I have nothing but praise for them and would recommend each of them when used in the right situation.
The problem I have run into which has led to my hoarding, is each one can only be used for one or two specific tasks.
These tasks can be one or two of the activities I do on a daily basis which include calls on either of my desk phones, calls and webinars on my PC, making calls on my cellphone and listening to music on my iPod.
This slight limitation on the uses has resulted in in my need for all of my headsets.
The Solution to My Headset Hoarding
The solution to my headset hoarding is to switch to a single headset that will allow me to connect to my desk phone, my PC, my iPod and my cellphone.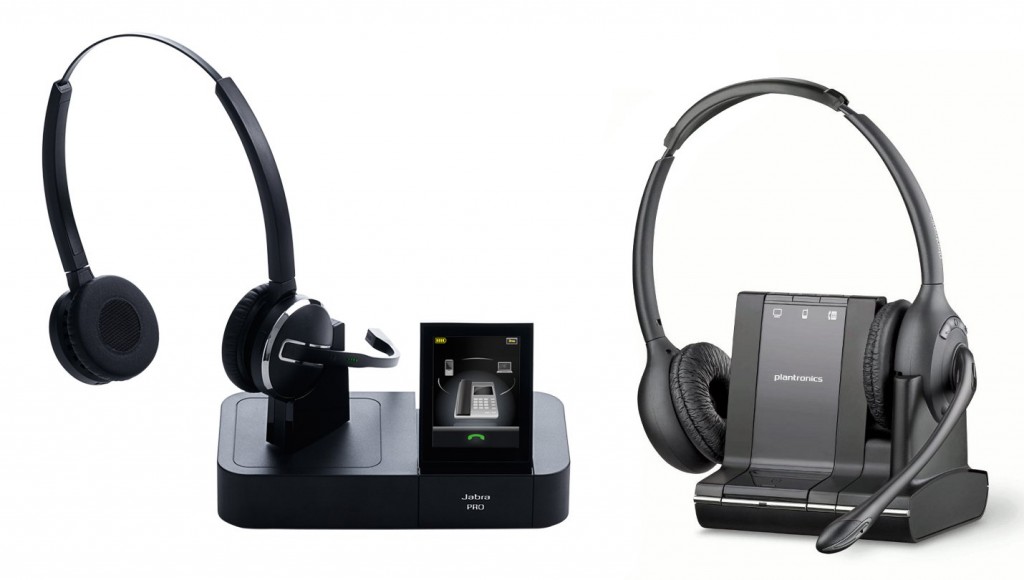 This solution looks like it will come in the shape of one of two headsets, the Jabra PRO 9465 Duo or Plantronics Savi W720. With either of these headsets I will be able to replace the majority of the headsets on my desk with just one thanks to the triple connectivity capabilities that they both support which will allow me to:
Connect to my desk phone with support for Electronic Hook Switch or a lifter for remotely answering a call
USB connectivity to connect it to a computer for webinars and softphone applications
Bluetooth connectivity for my cell phone and my iPod.
An added bonus of switching to one of these headsets is I will have add wireless mobility to allow me to get up and move around without worrying about missing a call. This is a feature that is not available to me with any of the headsets I currently use.
Since I listen to music throughout the day in each example I have chosen the binaural or stereo versions but within the Plantronics Savi series and the Jabra PRO 9400 series there are monaural or single ear versions. Additionally Jabra, Plantronics, Sennheiser and VXI carry headsets that will connect to just your desk phone and your PC if you don't need the Bluetooth connectivity.
There it is, I've finally been able to admit to it, I am a headset hoarder but one that is taking steps to curve my affliction. Of course that is if my desk isn't consumed by the dust first.