Best Conference Phones for Different Room Sizes (Infographic)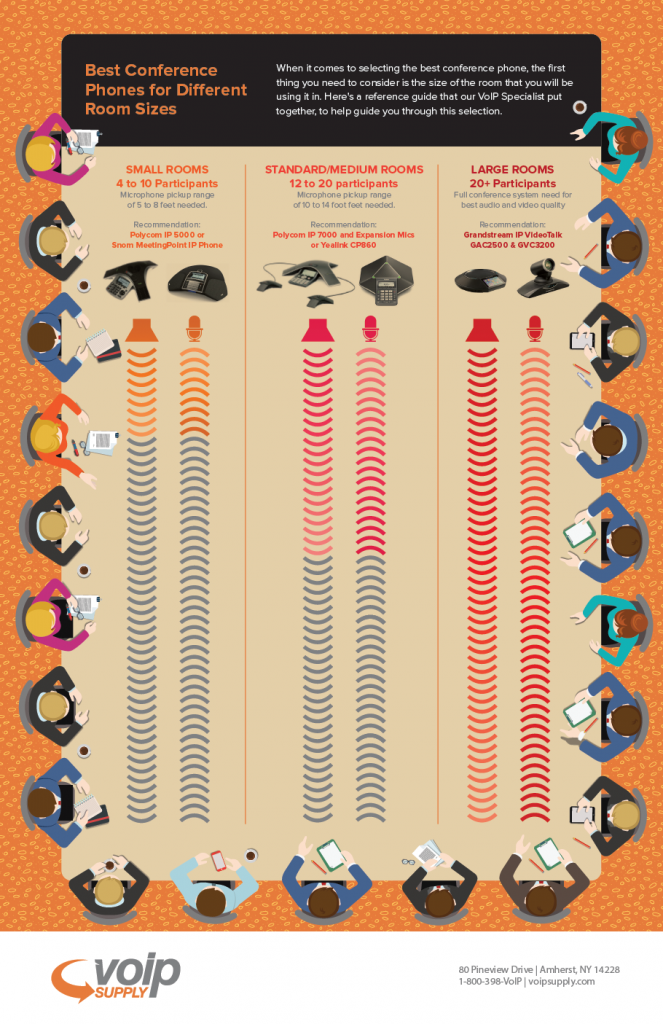 When it comes to selecting the best conference phone, the first thing you need to consider is the size of the room that you will be using this solution in.
In this blog, you will find our top pick conference phones at VoIP Supply based on room sizes and why our customers can't help but love them.
Small Rooms
Small meeting rooms usually can accommodate 4 to 10 participants. In this case, a conferencing solution that enables a microphone pickup range of 5 to 8 feet will be sufficient to provide clear conversations.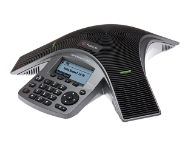 Polycom IP5000 is one of the most popular conferencing solutions for small room users. It features Polycom HD Voice technology with 7-foot microphone pickup and SIP interoperability that works seamlessly with a wide range of PBX including Asterisk based PBX at an affordable price.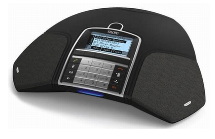 If you are looking for a solution that can expand the capability to fit in a standard room when needed, consider Snom MeetingPoint. Suitable for up to 10 participants with optional add-on microphones for a larger recording range, Snom MeetingPoint IP Conference Phone features OmniSound® Full duplex broadband sound technology and 12 SIP registrations.
Standard/ Medium Rooms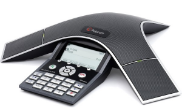 Most small businesses have standard/ medium rooms which normally allow 12 to 20 participants at the same time. In a standard room, 10 to 14 foot microphone pickup will be required for all attendees to hear and be heard clearly.
Polycom IP 7000 can fit in this room environment just right. It is designed to eliminate listener fatigue with high-fidelity audio from 160 Hz to 22kHz and 20 foot microphone pickup range.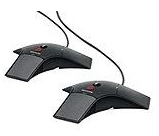 With optional expansion microphones and multiple call control interfaces, Polycom IP70000 gives you the flexibility you need. The wired microphones allow you to reach 7 feet away from the host IP7000 in any direction.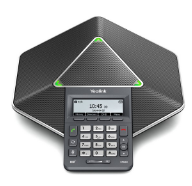 Another superior solution is the Yealink CP860, a 10-foot range and 5-way conferencing that's designed to reduce wasted time and misunderstanding.
Featuring Optima HD sound quality, Yealink CP860 offers lifelike voice quality and eliminates annoying interruptions. Aside from the basic conferencing features, it also supports USB call recording and multiple different languages.
Optional expansion microphones are available for you to use in a larger group.
Large Rooms
Large meeting rooms can accommodate 20 or more attendees. In this case, you should consider a full conferencing service as it delivers the best audio/ video quality.
Grandstream IPVideoTalk conferencing service enables 8-100 participants in the same meeting with 1080 p video resolution and up to 8 video presenters.
GVC3200 with GAC2500 is complimentary with IPVideoTalkPro platform which not only allows for plug-and-play video conferencing but also being interoperable with any 3rd party SIP video conferencing platform.
If you are interested in downloading our infographic for the Best Conference for Different Room Sizes, please submit the form below.