Bicom System Certified Interoperability with VTech ErisTerminal SIP Phones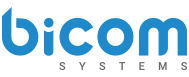 July 12th, 2017 – Bicom Systems announced that they have completed the certification of four ErisTerminal SIP phones with VTech Communications, Inc. This certification guarantees full interoperability of four VTecg ErisTerminal SIP phones with Bicom System's upcoming release of PBXware 4.1.2 including:
"Our diverse product portfolio scales from small offices to enterprise level corporations," said Ernie Levenson, President of VTech Communications, Inc.. "We're excited PBXware users will have access to a wide range of offerings that add flexibility and increase productivity in the workplace."
We are excited to see this great cooperation between Bicom System and VTech Communications. Look forward to seeing how this benefit our customers and partners!