Blue, Green, Red? How to Read Poly's Calisto 7200 Indicator Lights
If you are one of the road warriors who need to jump in a conference call or even host one on the road, having a compact portable Speakerphone is a must!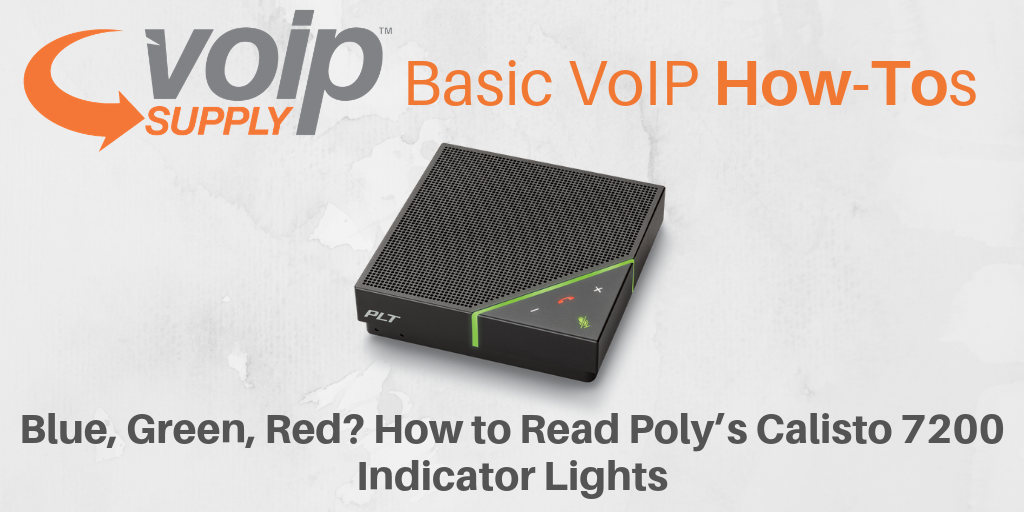 Poly's new portable Bluetooth & USB speakerphone, Calisto 7200, has drawn a lot of attention from our customers since its release. It is designed to turn any workspace into a conference room within seconds! Today we are going to take a quick glance at this device and learn about how to interpret the indicator lights on it. 
The Calisto 7200's Indicator Lights Explained
Under a different mode or status, your Calisto 7200 will lit up in different colors to notify you what's happening. Understanding what the indicator lights mean can save you time or assure you that your device is working just right. Check out this chart below to find out what each color means:
Amber – charging battery

Blinking Amber – low battery

Pusing Amber – software update

Blue – Bluetooth paired

Blinking blue – Pairing/discovery mode

Green – in a call

Blinking green – incoming call

Red – mics muted

White – power on
Learn more in the Calisto 7200 user guide
There you have it! Did this article answer your question? What other features/functions do you want to learn about the Calisto 7200? Leave us a comment and we will help you answer your question!