Check off VoIP Phones from your holiday list with VoIP Supply's used phones inventory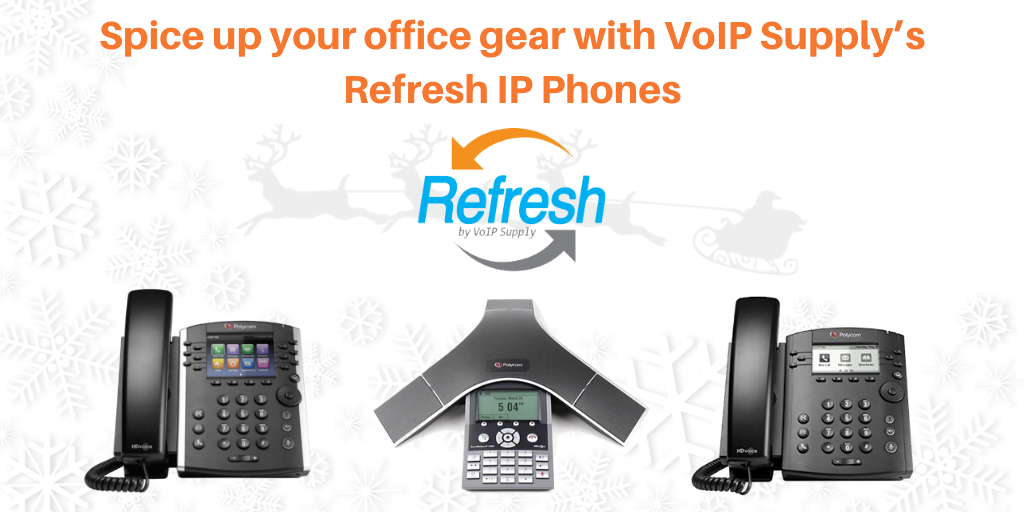 This holiday season spice up your office gear with VoIP Supply's Refresh IP Phones. Furnishing your business office does not have to break the bank. Check that off of your to buy list with Refresh. Refresh phones are refurbished devices that work as great as new and come with a full 1-year warranty. That's a great deal this holiday season. Think about that; if your phone does not work well you have until Christmas of next year to reach out to us under its warranty!
Here are some great Refresh deals we currently have in stock.
Poly (Polycom) VVX 311 VoIP Phone
The VVX 311 is a 6-line VoIP phone that has a simple and clean design.
This entry-level phone features dual Gigabit ports and is perfect for users who make low to moderate calls on a regular basis. If you are a cubicle worker or a front desk receptionist in an office where calls are important but high volume calls are not frequent in the business then this is a good phone for that.
Learn more about the VVX 311 here.
Poly (Polycom) VVX 411 VoIP Phone
The VVX 411 is a color IP Phone that has a 3.5 LCD display and supports up to 12 lines.
It is great for professional office staff that may need support for productivity add-ons such as an expansion module or a wireless headset, as well as third party Unified Communications (UC) applications such as calendar and corporate directory.
Learn more about the VVX 411 here.
Last but not least, we also have in stock the reliable Polycom IP7000 Conference Phone.
Poly (Polycom) IP 7000 Conference Phone
The IP7000 is a conference phone that has proven its high-performance by not disappointing with its noise cancelling technology and echo cancellation technology. The IP7000 has full-duplex technology that eliminates distracting drop-outs providing crystal clear calls that are as close as it gets to life-like communication.
This is an ideal conference phone for executive offices, conference rooms, and board rooms.
Learn more about the Polycom IP7000 here.
The Polycom VVX 311, VVX 411 and the IP7000 conference phone are just a few of the options we have in our Refresh warehouse. There are other great options that you can check out here.
This holiday season, help yourself to new office gear or make it a gift to a fellow business owner! Let us help you check check off IP Phones from your shipping list!