How to Choose the Right Conference Phones for Different Room Settings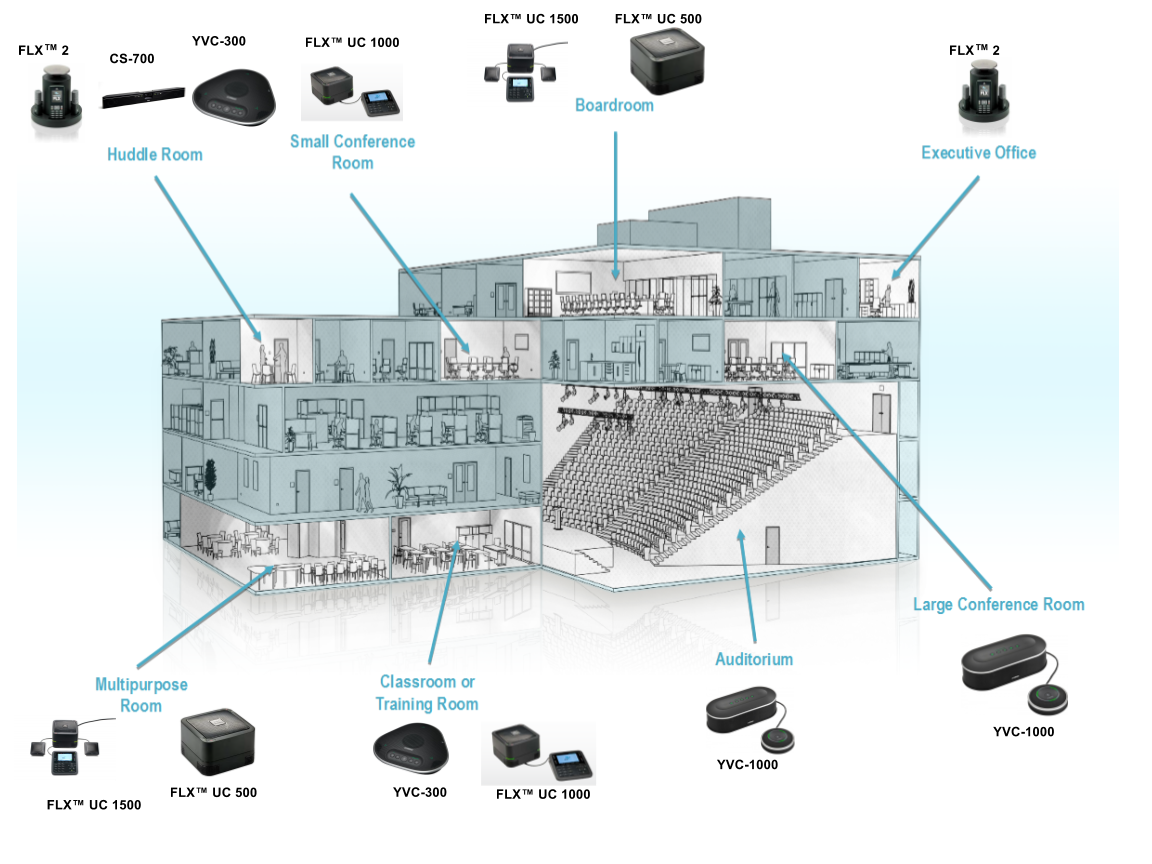 Choosing the right conference phone for your meeting room doesn't have to be complicated. The Revolab/Yamaha conferencing solutions provide the most natural and effective communication for every meeting environments, including yours. In this blog post, we'll help you find the right conference phone that fits all you need!
Conference Phones for Different Room Settings
Typically, business meeting rooms can be separated into three categories by their sizes: Large conference rooms usually accommodate 15 or more people; small to medium rooms accommodate 6 to 15 participants; executive offices and small meeting rooms (huddle rooms) fit 4 to 6 people. Now let's learn about the ideal Revolab/ Yamaha solutions for each room setting!
Large Conference Room (15+ participants)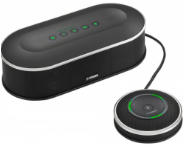 Yamaha's YVC-1000 is a Bluetooth® enabled conference phone that provides the best quality and most realistic sound with volume up to 95dB. It's designed with HVAD (Human Voice Activity Detection) capabilities which filters out noise automatically and only allows human voices to be heard.
The YVC-1000's multiple connectivity options makes it really easy for users to connect to PCs, smartphone, and other video conferencing devices!  
USB to PC – to support web conferencing

Bluetooth to Smartphone – to support teleconferencing

Audio In/Out to the Video Conference System – to support video conferencing
See more highlighted features:
Excellent Scalability: Daisy chains up to 5 microphones and supports 2 external speakers

High-Quality Audio Technology with Human Voice Activity Detection (HVAD)

One-Button Autotuning: Analyzes room environment and automatically tunes acoustic settings to the optimal level
Revolabs's FLX™ UC 1500 conference phone is ideal for conference rooms sized for up to 18 people. The UC1500 enables easy integration with your choice of 3rd party PC applications for collaboration and conferencing.
If you are looking for a flexible solution, the UC1500 can be the right match! It offers most extensible solution for USB, VoIP, and Conference Bridging for Enterprise Conferencing and Collaboration. The 2 included extension microphones help you fill a larger conference room with high-quality audio. Learn more features:
2 Directional Extension Microphones for audio capture in larger conference rooms

High Fidelity and Full-Duplex audio for authentic sound with mid-woofer elements

Four corner microphones for 360-degree audio coverage
Medium or Small Conference Room and Huddle Room (6 to 15 participants)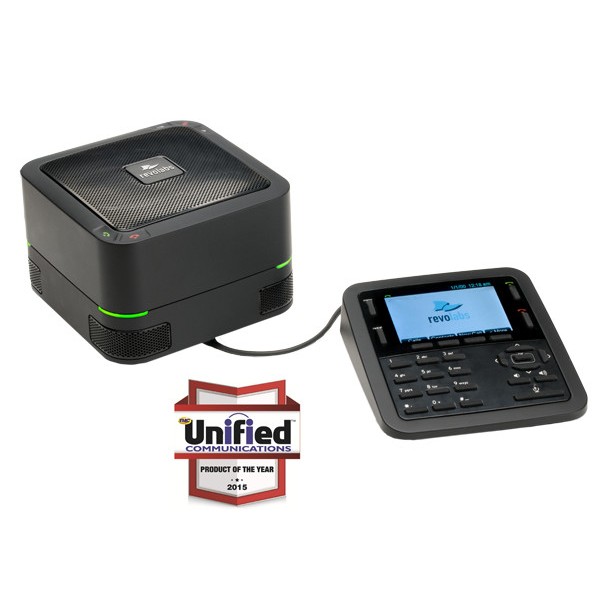 Revolabs FLX™ UC 1000 combines a VoIP phone with USB conference calling to work for all major telephony environments, whether it's on-premise or in the Cloud. The UC1000 bridges VoIP and 3rd party softphone calls. Its full-color dialer provides quick access to the key calling features: On-Hook, Off-Hook, Volume Up/Down, Mute, Redial, and access to the main menu.
Like all other Revolab/ Yamaha products, the UC1000 fills your entire conference room with high-quality speaker sound; the UC1000 is for up to 10-person conferencing. See more features:
4 embedded directional microphones provide 360-degree audio coverage

Full Duplex Audio

Dialer display with 3.5in diagonal color graphics

PoE with Mini USB 2.0 Connector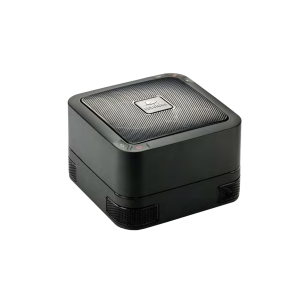 The Revolabs FLX™ UC 500 is a USB conference phone for unified communications that fuses the best technology for audio processing, microphones, and speakers. The UC500 comes with a variety of features and functions such as four built-in microphones that enable 360-degree audio capture and the ability to accommodate every call style from softphone calls to webinars. Check out some unique features:
Loudspeaker with frequency response of 160-20,000 Hz

Interchange microphone types

Open Standard SIP based

Noise Filter capability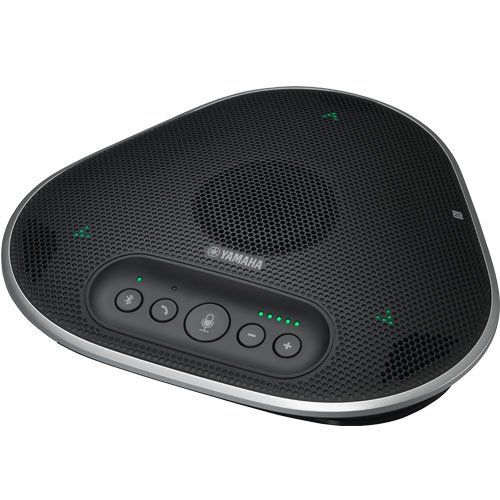 The Yamaha YVC-300 is another great solution for small to medium room sizes. The YVC-300 is designed for up to 6-person group conferencing and it can be easily powered by USB from PC, a power-pack or a standard USB charger.
The 360 degrees coverage from three unidirectional microphones and the Yamaha sound processing technology give you crystal clear sound/voice quality. Bluetooth is also available for you to quickly connect your conferencing unit to the smartphone and tablets, turning any personal devices into a conference phone!
This portable, lightweight unit is very easy to carry.

Bluetooth connectivity

4 embedded directional microphones
Huddle Room and Offices (4 to 6 participants)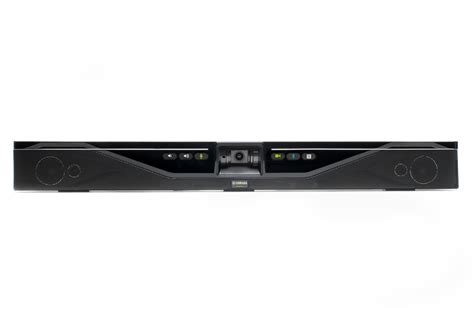 The Yamaha CS-700 is the latest innovation from Yamaha/Revolab that's specifically designed as an all-in-one unit for huddle rooms where you have limited room and tabletop space. Combines ultra-wideband audio with quality video, the CS-700 conferencing system addresses all communication requirements of small rooms.
Users love the remote management capability which enables remote monitoring and management of the units as well as configuring units in bulk, and upgrading them remotely and automatically through the IP interface. More unique features await your exploration!
Key Features:
USB audio and video support

Beamforming microphone array

4 speaker elements

Ultra-wide angle camera with 120-degree field of view

Integrated SIP interface for Call Manager integration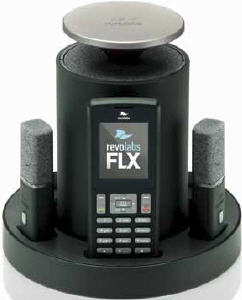 The Revolabs FLX™ 2 is designed for executive offices and SoHo environments where you need more efficient meetings and calls. With the FLX 2 conference phone, you can finally move freely while you present in the meeting without worrying about the wires. Simply take the wearable microphone with you wherever you go and be heard clearly at all times!
Like other Revolabs/Yamaha conference phones, the FLX 2 also allows you to turn your smartphone or PCs into conference phones within seconds through Bluetooth® and USB connectivity. It's just that simple!
Wireless Freedom – no wires needed on the table

Superior Audio Quality – wearable mic allows you to move freely

Handset calls or speaker calls

USB audio to a PC makes applications such as Skype®, WebEx®, Lync®, and Sametime® wireless and ready for conference calls
Not sure which conference phone fits your situation best? Give us a call at 1-800-398-8647 to get some expert opinions!