Choosing the Best VoIP Gateway for any Business Type and Telephony Solution
When it comes to finding the right VoIP gateway for your business, the options are endless. There are many names and models to choose from. However, when it comes to choosing the best VoIP Gateway for any business type and telephony solution, Digium's gateway product line should make the top of that list.
Digium's Asterisk based appliances include the G100, G200, G400 and G800, all of which
provide superior technology to deploy converged media networks, while remaining cost-effective.
So let's get right into why Digium gateways are the best choice:
They are built on both Asterisk open source and also have a state-of-the-art embedded platform
Solid-state design with no moving parts increases durability
They support both TDM-to-SIP and SIP-to-TDM applications
They can be easily managed through an easy to use web GUI
Proven reliability at a fraction of the cost of other gateway platforms
Technical support for your VoIP Gateway is available at no extra cost to you
When used for TDM-to-SIP, G-series gateways drastically reduce the operating costs by means of connecting a legacy business phone system to a SIP trunk. When used in a SIP-to-TDM deployment, the gateway connects to a SIP communications system with T1/E1/PRI service from traditional telephony providers.
These VoIP gateways are flexible and can be used in any of these scenarios:
Public Switched telephone Network T1/E1/PRI to VoIP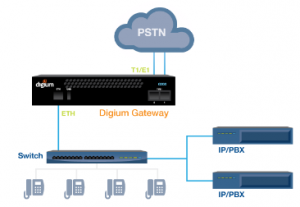 Connecting a VoIP-only system to a PSTN PRI trunk
VoIP Provider to Legacy PBX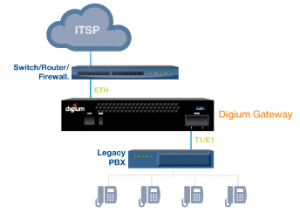 Connecting a traditional legacy phone system with a SIP trunk out to an ITSP
Legacy PBX to IP PBX Migration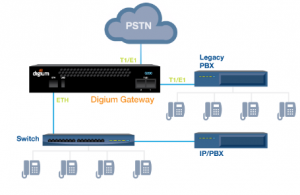 Connecting a legacy PBX via a PRI interface and an IP PBX via a SIP connection
Digium gateways are not only flexible, but are also easily managed through an intuitive point-and-click GUI interface that makes navigation, configuration, and installation super simple.The G-Series gateways also feature power saving technology with a digital signal processor (DSP) that takes care of all media-related operations.
If you want to learn more about Digium Gateways, check out this pre-recorded webinar where you will see how you can simplify your life with Digium Gateways and hear answers to real questions from people just like you.
For more great resources on Digium Gateways or to schedule a free test drive of the simple to use GUI, reach out to one of our experienced consultants at 1-800-398-VoIP.
Do you already have a Digium VoIP gateway? Are you in need of Digium VoIP gateway product support? Enter your questions here and find Digium VoIP gateways product support quickly and easily!
So, there you have it. Digium Gateways take advantage of the power and flexibility of Asterisk. Digium Gateways cost less out of the gate and will cost you less over time. That's why Digium's gateways are simply better for your business.