Different Levels to our Partner Program: Referral and VoIP Supply Partner
Different Levels for Different Partners
At VoIP Supply, we understand not everyone is going to be a VoIP expert and have skills in the variety of VoIP offerings. We would like to extend our partner program not only to the VoIP experts in the field but also to clientele with vast business contacts.
Let's try and break down the different partner levels in more detail.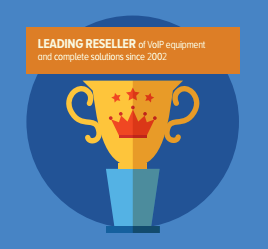 Referral Partner: As a Referral Partner you will put us in touch with possible companies or businesses that would benefit from our Partner Program. We will support that customer in finding the correct solutions. There is no need for a technical background or knowledge of VoIP to become this type of partner.
Benefits to being a Referral Partner:
No technology background needed
Earn money through referring business
Once business contact is referred to us your job is finished

VoIP Supply Partner: If you are currently working with VoIP Supply and looking to increase your customer base and reach, this is the partner level for you. We will provide sales and technical support needed to effectively build your account base.
Benefits to being a VoIP Supply Partner:
Grow your business without growing your current employee base
Provide support to your customer that you previously were unable to
Earn industry aggressive commissions for your business
We Buy Old Equipment
Another advantage to partnering with VoIP Supply is that we buy old, used equipment. You can save yourself and your customers money by allowing them to make some cash on that old equipment they were just going to throw away. Reclaim by VoIP Supply, was designed to be as simple as possible.
Become a Partner Today!
Contact our Channel Manager, Don Stefanie, today at 716-213-6906 or do[email protected] with any questions or inquiries regarding our Partner Program.