How the Rugged Snom M85 DECT Handset Takes a Licking and Keeps On Calling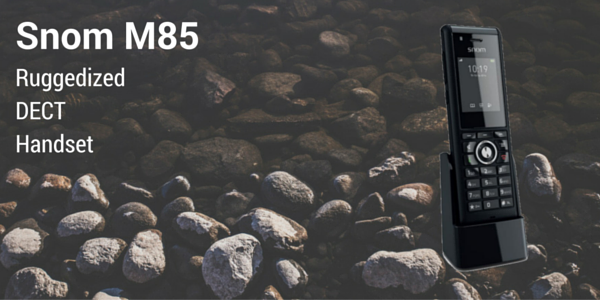 Introducing the Snom M85 Ruggedized DECT (wireless) VoIP Handset.
I suppose it's fitting that when you do a Google search for "M85" you'll find, as the number one search result, Wikipedia's description of the well-known "heavy machine gun…that was used primarily for turreted applications in armored fighting vehicles."
When you want something done, you bring out the big guns.
So it is with the Snom M85.
Just like its unrelated namesake, the M85 is comfortable in tough environments like hard hat zones, the outdoors, and industrial areas. It's able to withstand the abuse with protective features such as:
IP65 rated protective enclosure that is:

Shockproof
Splash-proof
Dust-proof
Operational in temperatures ranging from 5°F to 131°F (-15° and +55° Celsius)
Durability + Convenience
If you need a mobile handset that you can bang around in a warehouse or across a multi-story building, the Snom M85 is for you. It takes a beating while still offering convenient features such as:
Bluetooth headset compatibility
3.5 mm standard phone jack for wired headsets
Large 2″ color backlit display
Speakerphone
LED indicator light that lets you know if you missed a call, have a new message, or the battery is low
Extended Range
Typical signal range for the M85 handset is:
Indoors = Up to ~150 feet (50 meters)
Outdoors = Up to ~900 feet (300 meters) when there are no obstructions
When you need even more range, the compatible Snom M700 Base Station can be paired with additional base stations or the Snom M5 DECT Repeater which extends the reception range and bridges gaps between base stations.
When multiple M700 base stations are linked together, you can use your M85 headset in a larger area – your handsets's DECT signal will seamlessly transfer uninterrupted from one station to the next.
Multiple M700 Base Stations that are linked together give M85 Handsets an uninterrupted and secure wireless DECT connection to your voice network. The M700 can support up to 200 individual handsets and 40 additional base stations in a single installation.
The M700 runs on Power over Ethernet (PoE) so no additional power source is needed. When you deploy a multi-cell solution, such as explained above, you can ensure seamless handover and increased reception range.
What is DECT?
If you're still a little unsure what DECT is, here's a broad explanation.
DECT systems operate with a wireless handset but, these phones have a base station that is hardwired to an internet connection and then the signal is transmitted wirelessly to the handset. These are generally single line phones, have a range of 300 square feet from the base station, and signal repeaters are available if you need to increase the handsets range from the base station.
To learn more, check out our Guide to Wireless VoIP.



//