First Look: Yealink W56P Cordless DECT Phone

Yealink is excited to announce it's second installment of a cordless DECT phone solution with the Yealink W56P. The first generation of DECT phones from Yealink were the W52P and W52H, which were well received in the VoIP community.
Compatible with Yealink W52P Units
Yealink wanted to make sure there was full compatibility with all their products and continued this trend with the addition of the W56P. The W56P handsets are fully compatible with the W52H base stations. What this means if you already have a Yealink W52P with base station configured to your business phone system, the W56P will work seamlessly with your older handsets.
Unprecedented Battery Performance
One big differentiator between the Yealink W52P cordless handset and the W56P is the battery performance. Yealink has tested these phone under conditions that are typical of extensive use throughout the day. Some of the features and functions of the handset and battery are:
Continuous Talk Time: 30 hours
Standby Time: Over 400 hours
Quick charge: 10 min charging equals 2 hour talk time
Charge anywhere, any device with USB port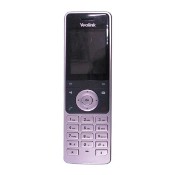 The Yealink W56P is ideal for the user who needs to be reached when they are away from their desk phone. This Wireless DECT phone can be used in such settings as catering facilities and hospitals.
Yealink W56P Availability
The Yealink W56P is set to be formally launched on April 20th with expected ship dates around the same time period.