Get these Poly Refurbished Phones before they are gone
If you need office phones or conference phones, now is the time to grab them while they are here. We have a selection of used, quality phones offered through our Refresh line, but quantities are limited and change on a daily basis. Take a look at some of the models we have available below, or take a look at our catalog here.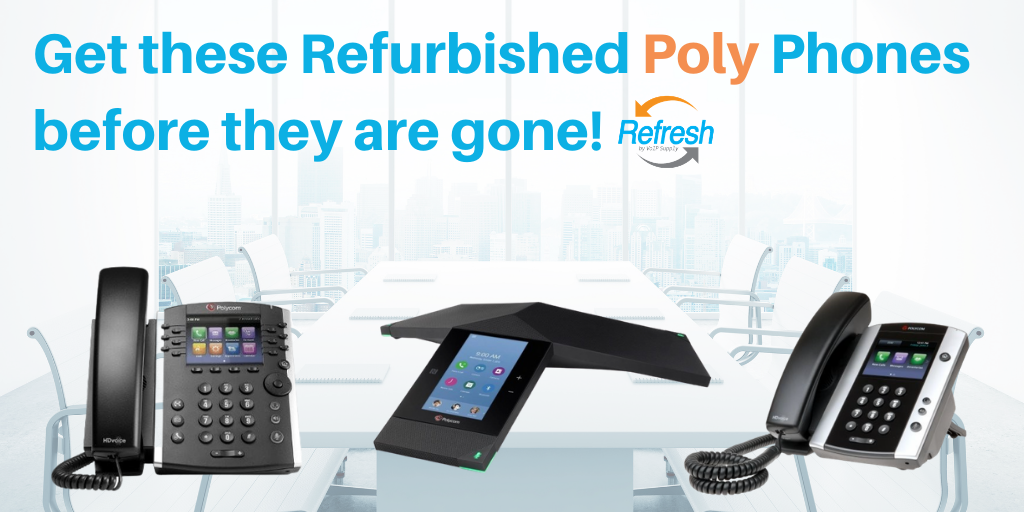 The Polycom VVX 401 is a 12-line HD Voice IP Phone for the professional user. It has a 3.5 inch color display and built-in PoE. With support for up to 12 lines, the VVX 401 is great for users who handle a moderate number of calls. The VVX 401 is a multimedia phone that allows for integration with third party applications.
VVX 401 Features at a glance:
3.5″ TFT (320 x 240)
12 lines or speed dial keys
HD Voice up to 7KHz on all audio paths (Speaker, Handset, Headset)
2 x Ethernet 10/100 or GigE (VVX410 )
Asian character support
Hard Keys: 12-key dial pad, home, speaker, mute, headset, volume, messages, hold, transfer
4-way navigation cluster with center "select" key
Supports VVX Expansion Module and VVX Color Expansion Module (Expandability up to 3 modules)
The Refurbished VVX 501 is another great option for office users of remote employees. Suitable for small to medium businesses as well as enterprises, the VVX 501 is a touch-screen phone with a 3.5 inch LCD display that handles up to 12 SIP lines.
The VVX 501 can also be used with third party applications such as calendars and corporate directories.
VVX 501 Features at a glance:
Gesture-based, multitouch-capable, capacitive touchscreen
3.5-in TFT LCD display at QVGA (320×240 pixel) resolution, 4:3 aspect ratio
Streaming media video playback
Screensaver and digital picture frame mode
On-screen virtual keyboard
Voicemail and video mail support
Dual USB ports (2.0 compliant) for media and storage applications
Polycom HD Voice technology delivers life-like voice quality for each audio path-handset, the hands-free speakerphone
Dedicated RJ9 Headset Port
Dual 10/100/1000 Ethernet port with PoE Support
The Trio 8800 is for the large conference room that needs a robust and high-performing conference phone. It has a 5-inch color lCD display with capacitive touch. The user interface is easy to use and has a wide variety of language options. With the Trio 8800, you can collaborate using audio, video or content, or a combination of all three. The Trio 8800 enhances any conference room with top of the line technology and great audio quality.
Poly Trio 8800 Features at a glance:
Conference Phone System
Built-in Wi-Fi
Microsoft® Lync™ Server 2010 Compatible
FTP/TFTP/HTTP/HTTPS Server-Based Central Provisioning
Single Line Operation
Acoustic Clarity Technology
20 Foot Microphone Range
Acoustic Echo Cancellation
Patented Polycom® NoiseBlock™
Bluetooth 4.0
5″ Color LCD Display
Refurbished phones come with a full 1 year warranty included with purchase. You also have the option of extending it to 2 years for peace of mind. If you have any questions about our refurbished products or anything VoIP, feel free to give us a call at 1-800-398-8647. We are happy to help.