Grandstream Automated Provisioning System (GAPS) Gives Ability to Remotely Manage endpoints
Grandstream has been known for its IP video/voice telephony and video surveillance solutions. Some of you may have heard of their Grandstream Automated Provisioning System (GAPS) they introduced several years ago. What does it do? How can you take advantage of it? Let's check it out.

As its name states, GAPS is an automated system that allows enterprise IT administrators and service providers direct and secure control over device provisioning and streamlines mass deployment of Grandstream's products from a central location. Let's find out some of the highlighted benefits of the GAPS:
Benefits of the GAPS
Plug and Play Service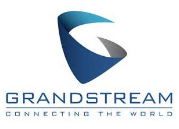 Like most of Grandstream's products, you are able to use the web-GUI to create a profile and control it from your end. This application is truly plug-and-play and has an easy control interface. E-commerce websites can also take advantage of their Application Programming Interface (API) support.
Drop-ship to Your Customers
Internet Telephony Service Providers (ITSPs) are also able to drop ship to their customers from their distributors. Distribution partners can also create sub-accounts so their resellers/customers can access their own profiles under the umbrella of the main distributor.
Full Management to Grandstream devices
Internet Telephony Service Providers have full management to all Grandstream devices they purchase including GXP IP phones, GXV IP Phones, GT50x/GT70x ATAs and GXW FXS/FXO Gateways, as well as their video surveillance cameras from a central location.
GAPS is designed with hassle-free, plug-n-play service in mind. It improves the service provider customers' experiences in managing Grandstream devices!
Check out the Grandstream GPAS User Manual or call me at 716-531-4318 to learn more!