Grandstream Wave Free Softphone Application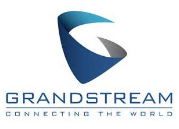 It's safe to say that Grandstream has become a very popular name in the VoIP community and their catalog of products continues to grow.  Grandstream is continually releasing new products like PBX's, IP phones, gateways, door cameras and even cordless VoIP phones!
But one thing that we feel may be flying too low on everyone's radar is their free (yes free) softphone application! The Grandstream Wave.
If your business is already using Grandstream products, and you have an office that is always on the go, then you are going to want to watch this video!
Having this application on your Apple or Android device allows you to take your desk phone with you wherever you go!  It's easy to use and packed with features!
Our senior VoIP expert Brian Hyrek took some time out of his day to sit down in the lab and play around with the Grandstream Wave and he had nothing but great things to say! Most notably, Brian was impressed with how easy the application was to use!
So, if you are already setup and using a Grandstream PBX, then take a look at this review video for a quick overview of its user interface and functionality!
Do you already use the Grandstream Wave? Or do you prefer a different softphone application? Let us know in the comments!