How to Bypass the "Update Admin Password" Screen on the Poly (Polycom) VVX Phone Series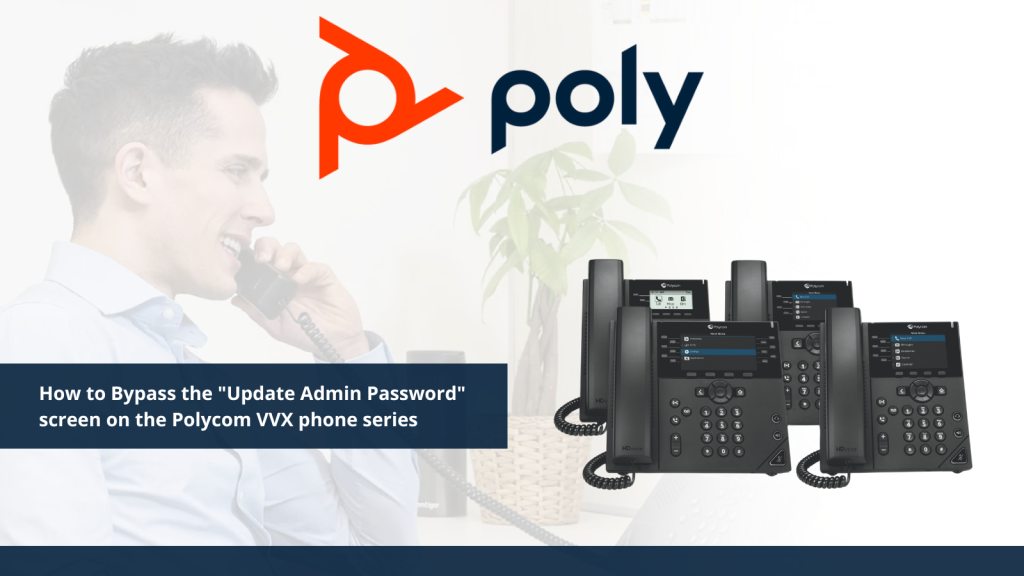 Recently our Customer Experience Manager and her team have been receiving calls and inquiries from our customers regarding an issue they were having with their Poly VVX phones. They were finding themselves unable to bypass the "Update Admin Password" screen that comes up in the main menu on the phone.
Worried about a possible problem with their phones, and looking to avoid the time-consuming process of having to do an RMA and wait for a replacement, our customers reached out to VoIP Supply to see if we can fix this problem.
VoIP Supply is composed of many departments that work closely with one another. Each is staffed with VoIP Experts, Customer Relations Specialists, and Industry Insiders who possess years of experience and knowledge of VoIP, VoIP-related hardware and software, and finding resolutions to problems that are in the best interest of our customers.
Our Customer Experience Manager brought this issue to the attention of our VoIP Team, who then set out to investigate the issue and see if there was something more going on beyond the customers just having a defective phone, and provide an alternate solution.
In researching the issue that these users were having with the phones, and the phones themselves, our VoIP Team was able to determine the problem had to do with firmware on the Poly VVX phone series. The latest firmware update to Poly (Polycom) phones has an added security feature that will not allow the user to reset the admin password and then press "enter".
As a security feature on the latest Poly (Polycom) firmware versions (5.9.7 and above), the default admin password of "456" must be changed before you have access to the phone menu or web interface.
Our VoIP Team has put together a series of steps that the user can follow in order to bypass the "Update Admin Password" screen and change the default admin password.
These Steps Include:
Set Admin Password screen will appear
Enter the current password "456" in the "Old Password" field
Use the directional pad to arrow down to the "New Password" field
Choose a password you would like to use and enter this password
Use the directional pad again to arrow down to the "Confirm New" field
Once confirmed, press the "Enter'' softkey on the bottom right
Now that your default admin password has been changed, you can access the phone features menu and web interface, and configure the device.
Do you have thoughts on this issue and this solution, or have similar experiences you'd like to share? Please leave a comment below.