How to configure Flexible Line Key Assignments on Poly Edge E Series Phones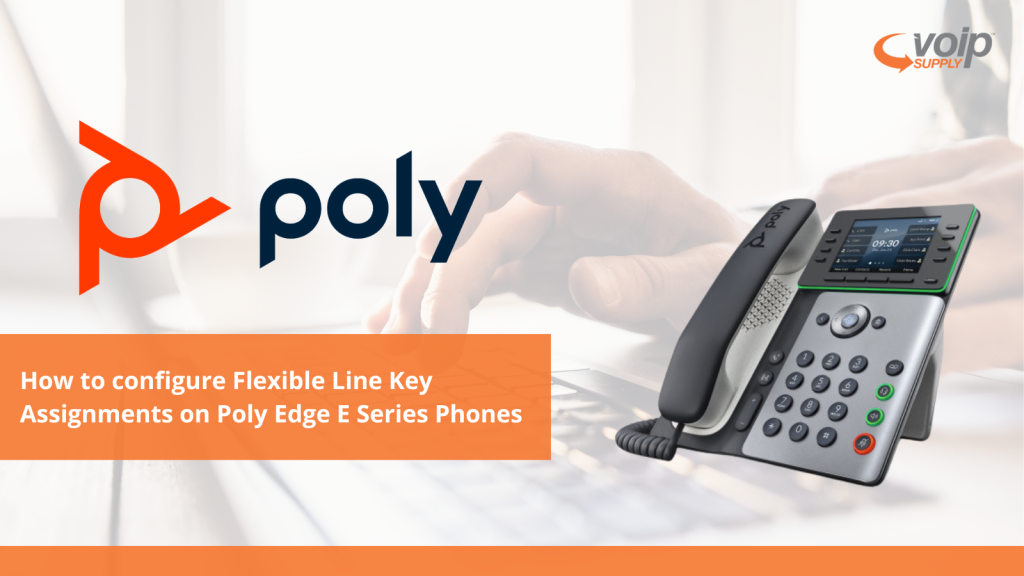 Poly, known and respected worldwide, produces phones that deliver upon decades of acoustic innovations to provide users with the highest quality calling experience.
The Poly Edge E Series includes some of the most versatile phones that Poly has produced. These phones bring together Poly's famous noise-reduction technology and cutting-edge design while being packed with indispensable features to provide the perfect user experience.
The Poly Edge E Series of phones include several home screen features that administrators can configure to meet their specific needs.
The Flexible Line Key assignment feature applies to expansion modules (EM) and the following Poly Edge E Series of phones:
The order in which a line key displays on a Poly Edge E Series phone determines its default line key assignment. The Flexible Line Keys (FLK) feature enables you to override default line key order (Registrations, Busy Lamp Field, Enhanced Feature Keys, Presence, and Speed Dial) and set custom line key assignments.
You can specify a function for each line key or use the "Any" category. Using the "Any" category lets you focus on the functions that are most important to your users. For example, if you assign functions to line keys 3 and 4 and set line key 5 to Unassigned, your phone creates the two assignments, displays an empty space for line key 5, and automatically assigns the remaining line keys according to the default order.
Note: Line key reassignment is disabled by default, which enables users to make line key assignments to their phones.
Line Key Registration Assignments
The number of line key assignments that a phone has depends on the number of physical line keys and whether an EM is connected.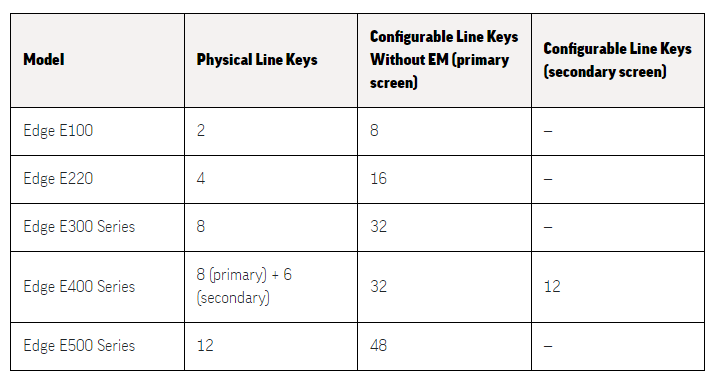 Line Key Numbering
Line keys on Poly phones and expansion modules (EM) are numbered sequentially, and the line key numbering on EM depends on how many lines the phone supports. For example, an Edge E500 phone supports 12 lines, numbered 1 to 12. Therefore, the first line on an EM connected to an Edge E500 phone is line 13.
Configure Flexible Line Keys
Configure FLK assignments and enable users to assign a line key function to any line key on their phone. Line keys that you configure using this feature override the default line key assignments and any custom line key configurations you may have made.
Task:
1. Open the configuration file.
2. Enable flexible line key reassignment: lineKey.reassignment.enabled="1″
3. Assign a category to each line key: lineKey.x.category="<value>"
Supported categories include:
Any (default)
Unassigned
Line
Busy Lamp Field (BLF)
Enhanced Feature Keys (EFK)
SpeedDial
Presence
4. Specify an index number that corresponds with the category set for the key: lineKey.x.index="<value>"
Note: When you set lineKey.x.category="Any", the phone ignores the value set for lineKey.x.index .
5. Save the configuration file.
Using the Any Category
Any keys configured with the "Any" category are assigned the remaining functions that weren't assigned to any other keys. When the parameter lineKey.x.category is set to "Any", the phone assigns the functions in the following order:
Registrations
Enhanced Feature Keys (EFK)
Busy Lamp Field (BLF)
Presence
Speed Dial
Flexible Line Key Assignment Categories and Index
The FLK category specifies the function of the line key. The index specifies the order in which the line keys display on the phone screen.
Use the following table to assign a category and an index to the line keys on your phone.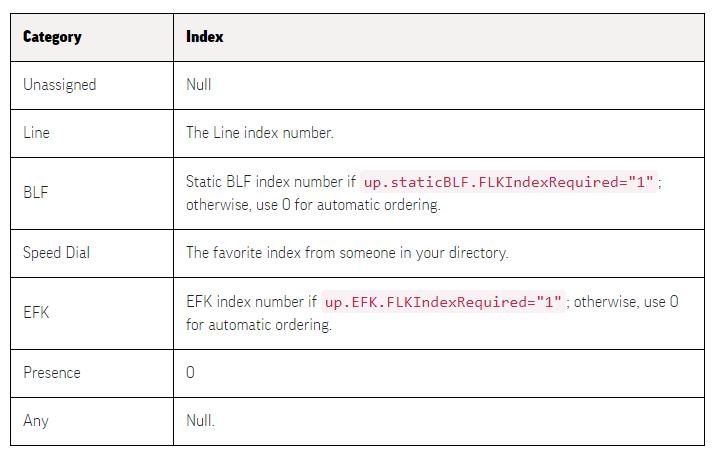 Visit VoIP Supply's Poly page to learn more about the Poly Edge E Series of phones, or give our VoIP experts a call today at 1-800-398-8647 to find out the best options for you!
Do you have a Poly Edge E Series phone and have configured the Flexible Line Key Assignments? Share your experience with us with a comment below!