How to Power On Your Advanced Network Device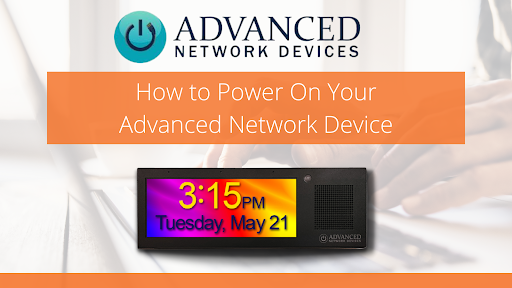 Advanced Network Devices has been in business for over 17 years and they are best known for their IP Display units. They recently launched the new HD IP Display which has so many helpful features such as Hands-Free Talk Back Monitoring, Flashing Indicator, SIP Integration and a 1920 x 720 high resolution full-color HD screen! What's great about Advanced Network Devices is even if you have some of their legacy products, the new products all boot up the same way, making them easy to use!
So let's go through the power-on sequence!
You will know pretty quickly if the unit was installed correctly because the device will start looking and try to acquire an IP address within a couple of minutes.
Once the device has located the IP address you will hear a single beep sound, if the device has a display like the new Advanced Network Devices IPCSHD-MB HD IP Display, you will physically see the bootup sequence.
The first screen should appear within seconds
The next screen that will show up will be the firmware version on the device. To ensure you have the most recent version you can sign up for an account on Advanced Network Devices website and then verify through their portal if the device has the latest firmware.
After that, you will be able to see the network MAC address of the devices, this is configured at the factory.
If you see Network INIT, this indicates that the device is looking for a DHPC service among other things. If the device gets stuck in the step that could indicate there might be a network issue. Try checking the cable, switch IPS and DHCP first!
You will then see IP ADDR 10-10-6-142, DHCP assigns this network-specific address. Otherwise, the static address will appear if the device is configured that way.
Lastly, once the bootup has completed the time will display! Note, if you just see a colon on the display, this is an indicator that the device cannot find the time. You will need to check the NTP server settings and check that your internet connection is properly working.
This all goes pretty quickly and you will have the basic display up and running! Then you can start adding all sorts of important information and displays to the device. The new Advanced Network Devices IPCSHD-MB HD IP Display is ideal for schools, hospitals and any building or environment that needs to be able to alert or bring attention to important events or situations.
Advance Network Devices are designed and Made in the USA and are ISO Certified! If you have more questions about their products, leave a comment here or reach out to one of our solutions consultants at 800-398-8647.