JPL Hearing Aid Compatible Headsets: Lightweight, Affordable and Professional
Learn More about JPL HAC Headsets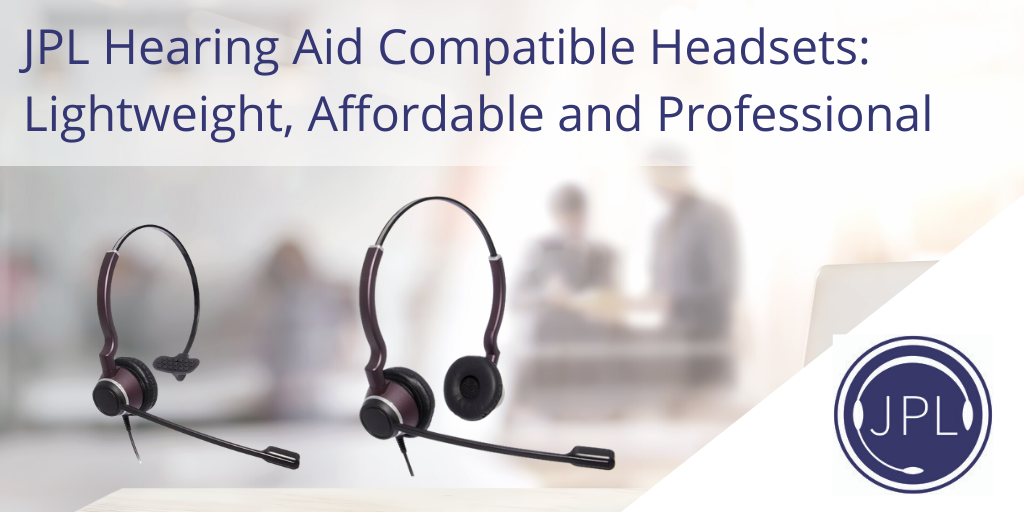 For those who are wearing hearing aids, searching for the right headset that will fit nicely can be a pain. Luckily, with JPL headsets, you don't have to sacrifice comfort for quality!
JPL's two HAC headsets are designed specifically for people who wear hearing aids or cochlear implants that have a hearing loop setting. They are compatible with most hearing aids on the market. Check out the top reasons why JPL headsets are the best headsets for the hearing impaired:
Super Lightweight
It can be uncomfortable when you wear hearing aids and a headset at the same time. Well, that's a different story with JPL. JPL's HAC headsets are only 48g (mono) and 78g (binaural)! They are designed for all -day comfort.
No Neck and Shoulder Pain
JPL's HAC headsets come with an adjustable headband and soft ear cushions. You don't need to cradle a phone while working on other tasks – Great for multi-taskers like you! Binaural and Monaural options are available:
Surround Shield Noise Cancelling
These headsets have a weighted filter, for clearer Surround Shield™ noise cancellation. They are ideal for a busy office or call center with large call volumes. The quick disconnect design comes in handy when you need to move away from your desk without removing the headsets. This will automatically put your caller on hold until you come back!
3-Year Warranty
The best part is yet to come – These headsets are protected with a 3-year repair or replacement warranty!
If you'd like to learn more about these headsets, visit our product pages or give one of our VoIP consultants a call today at 1-800-398-8647!