June Hardware Roundup: New Video Phone, Multicase Speaker and WiFi Access Point
June is a month of great new VoIP hardware! This month, we are seeing lots of great new additions you can add to your communication system, including Grandstream's new enterprise-grade GRP Series IP phones, CyberData's multicast speaker, the GWN7630 WiFi Access Point and much more!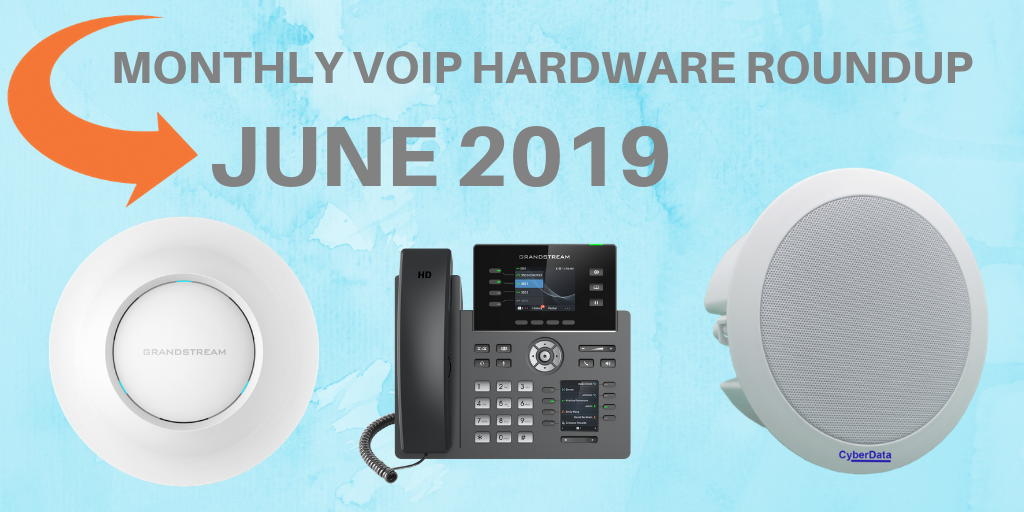 If you haven't checked out Grandstream's new GRP Series IP phones, you are really missing out! The GRP2614 is now available for purchase. Click here to order!
These high-end devices are designed for enterprise users or service providers who need to mass deploy and manage a large number of endpoints at once. See what features are included for the GRP2614:
16 Lines

Built-in dual-band WiFi support

Support all major codecs, including wideband codecs G.722 and Opus

Support secure-boot, encrypted data storage
Looking for an economical and easy-to-use speaker? Check out the CyberData 011485, a multicast speaker with Power-over-Ethernet (PoE 802.af). This product is currently in stock. Click here to order!
The 011485 speaker easily connects to your PoE network with a single Ethernet cable connection. The 011458 is capable of playing audio from any multicast source like the CyberData SIP Paging Server with Bell Scheduler (011146).
Plays audio from multicast

TLS security for auto provisioning

Support for 10 multicast paging groups

Network-adjustable speaker volume

User upgradeable firmware via web interface or auto provisioning

802.11q VLAN tagging
The last but not the least is Grandstream's latest WiFi access point, the GWN7630. This device features dual-band technology and an antenna design that provides maximum network and WiFi coverage.
It's a great solution for small to medium-sized businesses or branch offices where you need to have WiFi access. The GWN7630 is coming soon. We're accepting pre-orders. Click here to pre-order!
2.33 Gbps wireless throughput and 2 Gigabit wireline ports

Dual-band 4×4:4 MU-MIMO technology

Self-power adaptation upon auto detection of PoE or PoE+

Supports 200+ concurrent Wi-Fi client devices
Want to see more new VoIP hardware? Visit our website or give us a call at 1-800-398-8647 today!