Mitel Cloud Solutions Are Now HIPAA Certified!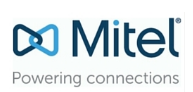 Mitel® announced today that their hosted Cloud solutions are now all certified to meet Health Insurance Portability and Accountability Act (HIPAA) standards. The HIPAA-compliant products include MiCloud Office, MiCloud Business, MiCloud Enterprise and Clearspan.
HIPAA is a Federal law that restricts access to individuals' private medical information. This is established to protect patient health data and information privacy.
With the need for increased security in pretty much anything we use these days, it is great to see a partner of ours, like Mitel® taking the necessary steps to deliver a secure and safe solution for the healthcare market. I expect to see more and more businesses moving in this direction, so they not only met HIPAA requirements but that the solutions and products they are providing keep their customers' information safe.
Mitel's information security team created a robust security framework with both physical and technical safeguards to address HIPAA requirements. Bing an industry leader of business communication solutions, Mitel has shown its dedicated commitment to ensuring high levels of security for healthcare customers.
"Our organization is quite large, complex and features a growing ecosystem that lets patients and staff communicate through a variety of channels," said Lou Gallagher, Senior Director of Engineering and Architecture, HealthEast.