New VoIP Hardware for Small Offices – November 2020
Time to check out the new VoIP hardware this November! This month, we have several compact but powerful VoIP hardware designed for remote workers and small offices. Here are some highlights: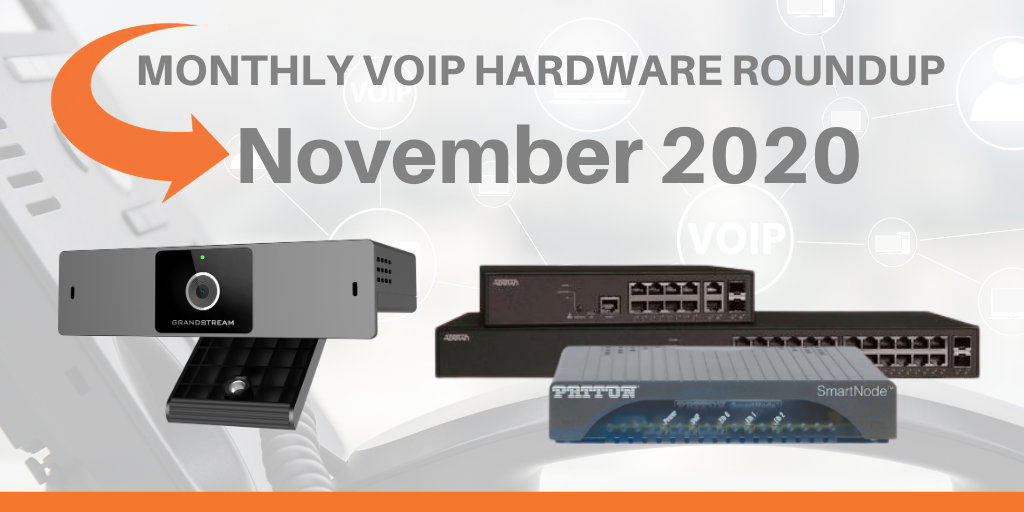 Grandstream's GVC3121 Video Conferencing Endpoint
The GVC3212 is a compact and affordable HD video conferencing unit designed for remote workers and small conference room settings
The GVC3212 endpoint pairs perfectly with Grandstream IPVideoTalk Meeting plans, an online conferencing platform that allows you to host meetings that can be joined on nearly any device including mobile, PCs, and laptops. The GVC3212 is coming soon. See our product page to learn more!
Key Features
Advances camera with megapixel CMOS sensor, 60 FOV wide-angle lens
Integrated dual-band Wi-Fi 802.11 a/b/g/n/ac
Dual-microphones with 3-meter pickup distance and advanced acoustic echo cancellation noise shield
technology
Support for Miracast and AirPlay wireless content sharing
Integrated 1x HDMI and 2x USB ports
ADTRAN's NetVanta 1500 Series Switches
The Adtran NetVanta 1500 Series Gigabit Ethernet Switches supply a higher bandwidth to corporate office LANs supporting the most-demanding bandwidth application. Choose from 12-port, 28-port or 48-port with an optional Power-over-Ethernet for the Adtran NetVanta 1500 series Switches.
Standards-based for ease of interoperability
User-friendly setup for faster deployments
Optimized for iSCSI Storage Area Networks (SANs) deployments
Limited Lifetime Warranty
Patton's SN500 eSBC and Router
The Patton SmartNode 500 eSBC and Router is the smallest SBC device in theis the world! Designed for small/home offices and small to medium enterprises, the SN500 supports 4 to 30 concurrent SIP calls. The SN500 provides protection to your network, as well as call-quality assurance for ALL-IP business communications.
Key Features:
2 x Ethernet 10/100/1000Base-T
4 SIP Sessions no RTP transcoding (SIP b2b UA) upgradeable
Patton Cloud Orchestrated Advanced CDRs and Call Quality Metrics**
Up to 30** SIP to SIP calls
Desktop or wall mountable
That's not all! Visit our website to see more new VoIP hardware.