Sangoma's PBXact UC Appliances Comparison – Choose a Right Phone System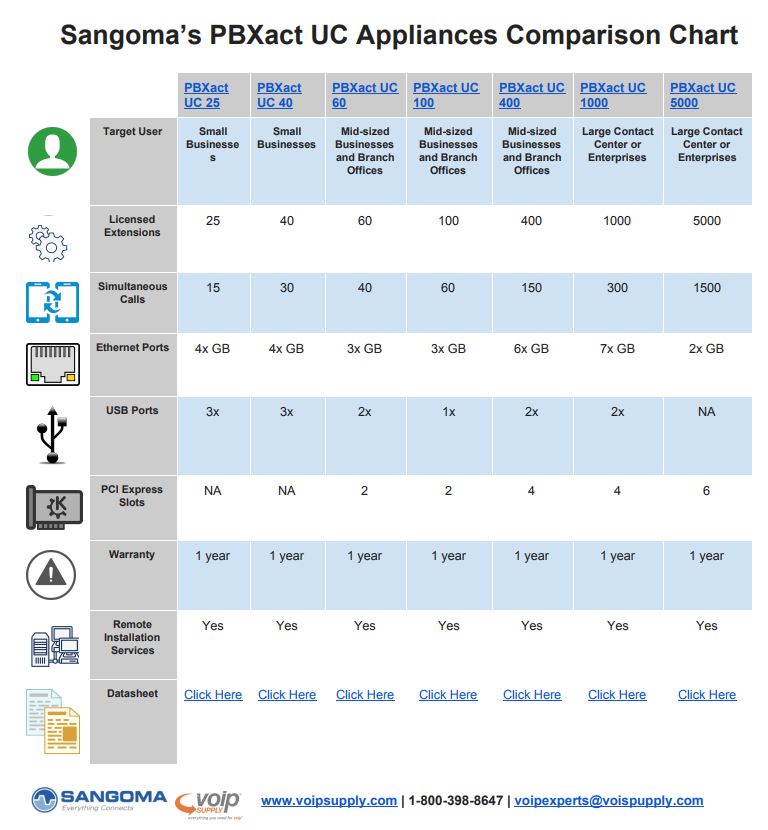 In the previous post, I have briefly discussed what PBXact System is and how you can benefit from it. Today, I am going t walk you through the three main popular PBXact UC solutions and help you pick out the right phone system you desire!
The PBXact UC Series includes six phone systems but today we will focus on the three most popular systems: the PBXact UC 40, the PBXact UC 100 and the PBXact UC 1000 system.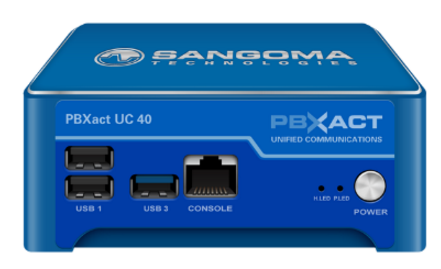 The PBXact UC 40 is the smallest on-premise based appliance in the Sangoma PBXact family that is built for small businesses looking for a simple solution without bells and whistles. The PBXact 40 supports up to 40 licensed users and 30 simultaneous calls. It is an advanced on-premise turnkey unified communications platform which integrates all your business real-time voice and IP telephony applications into one full-featured experience. Check out the PBXact UC 40 datasheet here!

The PBXact UC 100 is a user-friendly appliance that supports up to 100 users or endpoints and 30 simultaneous calls. This solution can be easily deployed within minutes and it includes a web-based user interface. Designed for mid-sized businesses, the PBXact 100 comes ready with the ability for analog connection. This UC platform is closely integrated with the most popular phones and endpoint offered in the VoIP market. Check out the PBXact UC 100 datasheet here!

The PBXact UC 1000 is a fully feature business phone system suitable to expand to large contact center environments. The PBXact 1000 is able to handle up to 1000 users or endpoints and 300 simultaneous calls. This system is designed with business communications in mind to integrate with a wide range of IP phones and endpoints. Check out the PBXact UC 1000 datasheet here!
All of the PBXact hardware is built to be of high-performance and all Sangoma hardware carries a one year warranty with options to extend. The PBXact includes the following commercial modules:
Flexible Time-Based Call Routing

Built-In Conference Bridge

Fax to E-mail

Hunt/Ring Groups

Music on Hold

Voicemail Blasting

Find Me / Follow Me Calling

Personal IVRs

Wake Up Calls

Support for Video Calling

Secure Communications (SRTP/TLS)

Announcements

Text to Speech

Calling Queues (ACD)

Interactive Voice Response (IVR)
Some highlighted PBXact UC features include:
Flexible Time-Based Call Routing

Built-In Conference Bridge

Fax to E-mail, Three-Way Calling Support

Voicemail to E-mail

Call History / Call Detail Records

Softphone Support, Overhead Paging

Desktop/Mobile Phone Support

Web-based Config File Management When Needed

Backup and Restore Utilities, WebRTC Softphone

Call History (Details and Recording Playback / Download)

Presence Management, Conference Room Management
Access to the PBXact Series Datasheet
Still can't find your perfect match? Give me a call at 866-583-0815! I will be happy to discuss your requirements and help you find the ideal solution that meets your business needs.