Schools Updating IP Paging Systems Increase Security, Improve Response Time, and Avoid Incidents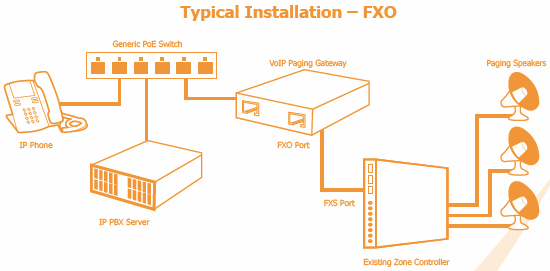 VoIP Supply is featuring the latest IP Paging devices from three of the top paging and intercom manufacturers to help schools modernize their emergency notification methods.
The abilities of new IP Paging systems from CyberData, Valcom, and Advanced Network Devices (AND) are not limited like traditional analog systems: 
One Network:  IP paging systems don't use separate voice and data networks – they're combined into one.
Less Electrical Wiring:  The need for AC outlets and power adapters is removed with Power over Ethernet (PoE) enabled IP paging devices which speeds up installation time, provides more flexibility of choice in device location, and saves on the expense of installing power in remote areas.
Reduce Backup Batteries:IP paging systems reduce the reliance on several costly backup batteries during power failures. Instead, with PoE, a single UPS (uninterruptible power supply) can be used to provide backup power to an entire network.
One System:  IP paging works as a common system for all public announcements and emergency alerts and users can target messages to specific telephones, speakers, or areas of a building.
Targeted Messaging – More Than Just Speakers
IP Paging goes beyond just bringing voice to groups of people. IP Paging also includes IP Clocks, IP digital signage boards, and an array of IP Speaker choices to round out a unified message.
One of the best things about network-based, IP paging devices is what's called "targeted messaging."
When used in together with paging management software, users have the control to send messages, sound or text, to one device, a handful of devices, or all IP paging devices on a network.
IP paging management software from Advanced Network Devices, for example, offers a "Security Guard" mode which can monitor live sound in remote rooms. Users will hear the disturbance before seeing it, providing the option to investigate if necessary.
Many IP paging devices work with 3rd party software such as Informacast, Cisco Call Manager, SA-Announce, and others.
Budget Savings
There are a couple of ways that schools can realize budget savings by using existing speakers from an old analog paging system while gaining enhanced IP paging features from a partial systems upgrade.
School paging systems use a variety of speakers including ceiling, wall, or horn models. When needed, they can be upgraded to something like Valcom IP Paging Speakers, manufacturer of the industry's first IP loudspeaker and the first PoE loudspeaker.
But if the old speakers still work, why replace them? CyberData offers simple solutions to incorporate them into an IP paging solution:
CyberData IP Paging Gateway: Similar in form and function to a VoIP adapter or VoIP gateway, an IP paging gateway enables access to existing paging speakers through a VoIP phone system. The interface is designed to use an existing analog zone controller with a telephone answering machine (TAM) interface and can support paging for many zones from a VoIP phone.
CyberData Zone Controller: A VoIP paging zone controller enables access to existing paging speakers through a VoIP phone system and is designed to use a standard paging amplifier with audio inputs. Some CyberData models support paging up to 15 zone groups from a VoIP phone.
"IP paging expands intercom and notification systems in the way that VoIP provided so many new features to our phones," said Garrett Smith, Chief Marketing Officer at VoIP Supply. "Schools can easily leverage IP paging systems by combining them with their existing IP voice and data networks while gaining powerful features like mass notification for emergency situations."